App Specification
App Name:

a View From My Seat

Rating:

3.9

Apk:

com.pixelpainter.aViewFromMySeat

Cost:

Free

Developer:

http://aviewfrommyseat.com

Market:

market://search?q=pname:com.pixelpainter.aViewFromMySeat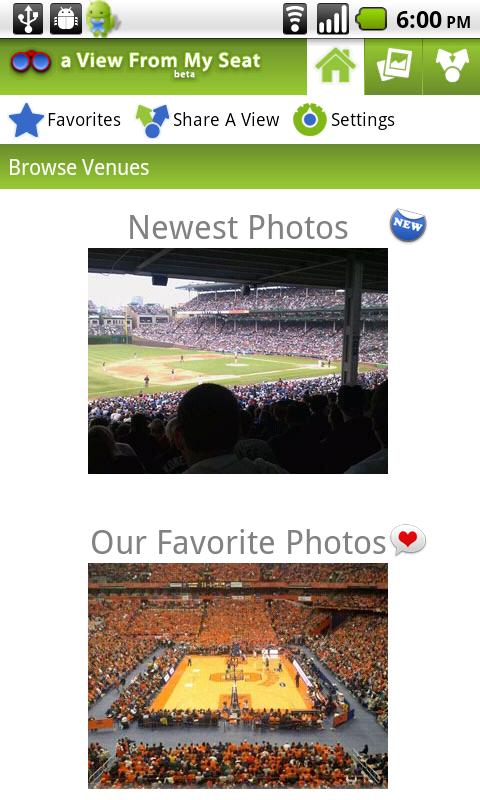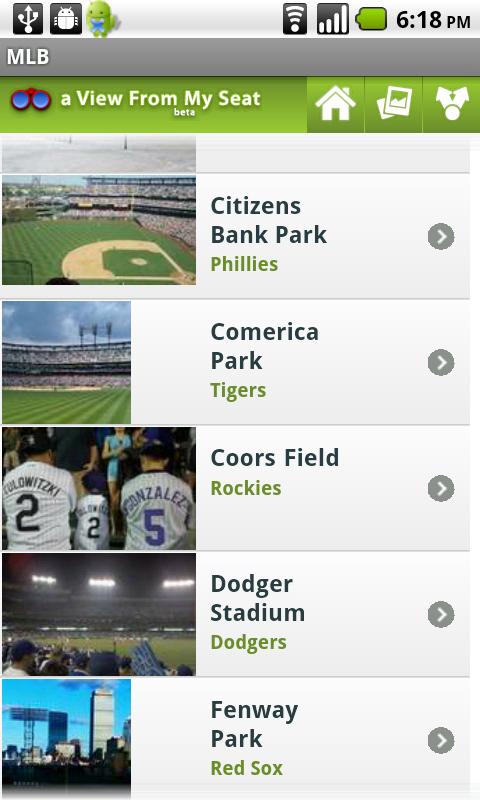 Sports photos for and from the fans.
Share your sports photos & see others before buying tickets to your next game.
-Browse photos from popular sports venues
-Collect trophies for sharing photos
-Leave comments
-Tweet photos of your seats when you share. Photos URLs are automatically shortened
- Use photos as wallpaper. * That's over 1600 sports wallpapers and growing.
This app grows as fans share their photos.
We constantly make improvements to this app. As such, it's beng updated weekly right now.
We need fans from your home town to share a view from your seats. Help make this the ultimate archive of fan photos.
aViewFromMySeat is still very new, but we already have fans supporting these home teams.
In MLB: Angels, Giants, Cardinals, Orioles, Diamondbacks, Mets, Phillies, Tigers, Rockies, Dodgers, Red Sox, Reds, Royals, Astros, Nationals, Padres, Pirates, Rangers, Blue Jays, Mariners, Marlins, Twins, Athletics, Rays, Braves, White Sox, Cubs & Yankees
In NBA: Raptors, Heat, Mavaricks, Magic, Spurs, Bucks, Pacers, Jazz, Thunder, Knicks, Hornets, Nuggets, Hawks, Nets, Cavaliers, Trail Blazers, Lakers, Clippers, Celtics, Rockets, Bulls, Suns, Wizards & 76ers
In NFL: Chiefs, Panthers, 49ers, Browns, Cowboys, Lions, Falcons, Patriots, Steelers, Broncos, Packers, Eagles, Titans, Colts, Ravens, Vikings, Jets, Giants, Raiders, Bengals, Chargers, Seahawks, Buccaneers, Texans, Bears, Dolphins, Cardinals, & Cowboys Stadium just before the Super Bowl
In NHL: Maple Leafs, Stars, Sabres, Coyotes, Red Wings, Rangers, Blue Jackets, Avalanch, Thrashers, Devils, Hurricanes, Lightning, Bruins, Blackhawks, Capitals, Flyers & Wild
In MSL Soccer: Galaxy, Union
In Minor League Baseball: Syracuse Chiefs, RedHawks, Ironpigs, Lakewood Blueclaws, Reading Phillies, Clippers, Isotopes, Lake Elsinore Storm, Wichita Wingnuts, Rockcats, Staten Island Yankees, Omaha Royals, Los Angels Angels, Indians
In NBA D-League: Mad Ants, Tulsa 66ers
In Minor League Hockey: Rochester Americans, Rampage, Toledo Walleye, Springfield Falcons, Steelheads
In College Basketball: Indiana Hoosiers, Syracuse Orange, Gamecocks, Utah Aggies, Buckeyes, Demon Deacons, Arizona Wildcats, UCLA Bruins, LSU Tigers, Hurricanes, Wildcats, Bulldogs, Volunteers, NSCU
In College Football: Boston College Eagles, Arizona Wildcats, Oregon Ducks, Penn State Nittany Lions, Cotton Bowl, Oklahoma State Cowboys, Crimson Tide, Kentucky Wildcats, Mississippi Bulldogs, Carolina Pirates, Oklahoma Sooners, Washington Huskies, Auburn Tigers, Texas A&M Aggies, Virginia Tech Hokies, USC Trojan, Nebraska Cornhuskers, Wolverines, Tennessee Volunteers, Bearcats, Notre Dame Fighting Irish, Ohio State Buckeyes, Aztecs, Arkansas Razorbacks, Utah Utes, Utah State Aggies, UCLA Bruins, Rose Bowl, Georgia Bulldogs, Michigan Spartans, Texas Longhorns, LSU Tigers, Vanderbilt Commodores, Wyoming Cowboys
In College Hockey: Sioux
In international Baseball: Leons de Ponce, Criollos de Caguas
In British Football: Blackpool, Norwich City, Rangers, Sunderland, Aston Villa
In Mexican Football: Clubs America, Tijuana, Atlas
In Netherlands Football: ADO Den Hagg
Previous Post: Cyclo Live Wallpaper
Next Post: ChristmasWallpapers