App Specification
App Name:

Alarm Speaking

Rating:

5

Apk:

com.bim.speakingalarm

Cost:

US$0.99

Developer:

http://www.crinus.org

Market:

market://search?q=pname:com.bim.speakingalarm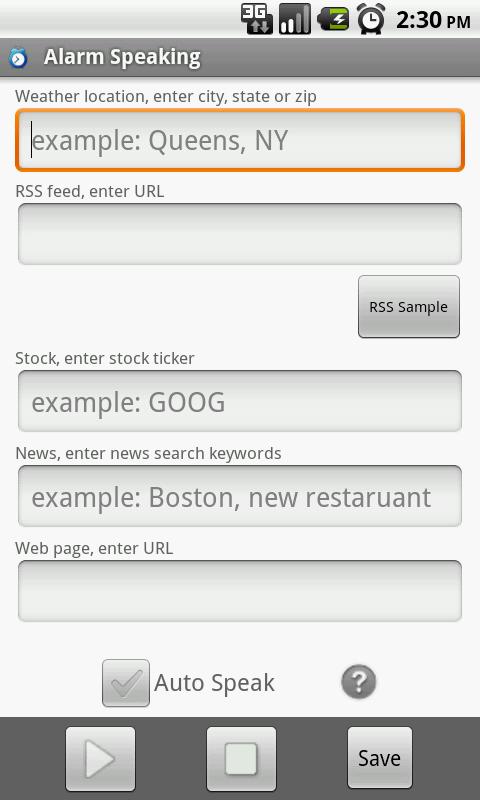 Instead of the default alarm sound, Alarm Speaking will speak to you when alarm is fired. Greet you, let you know date, talk the weather, RSS feed, stock, news, and more… All those are based on your preference.
for weather, enter city and state, or zip
for RSS feed, enter the URL for the feed. There are some sample RSS URLs with the app for testing purpose.
for stock, enter stock ticker
for news, enter any news keywords. The app will search the web using these keywords. To search local news, you can enter the location information like city, state.
for web page, enter the URL. Since the data is unformatted, the app try its best to speak the displaying text.
Tips:
The app comes with an alarm sound Silence. If you do not want to hear the alarm sound and just want the speaking. You can select the Silence as alarm when you set up the alarm clock.
Recent changes:
Add option to speed RSS feed and web url
Previous Post: Bluetooth OnOff
Next Post: Secrets Of Money And Romance