App Specification
App Name:

Classic Text To Speech Engine

Rating:

3.95

Apk:

com.svox.classic

Cost:

Free

Developer:

http://svoxmobilevoices.wordpress.com

Market:

market://search?q=pname:com.svox.classic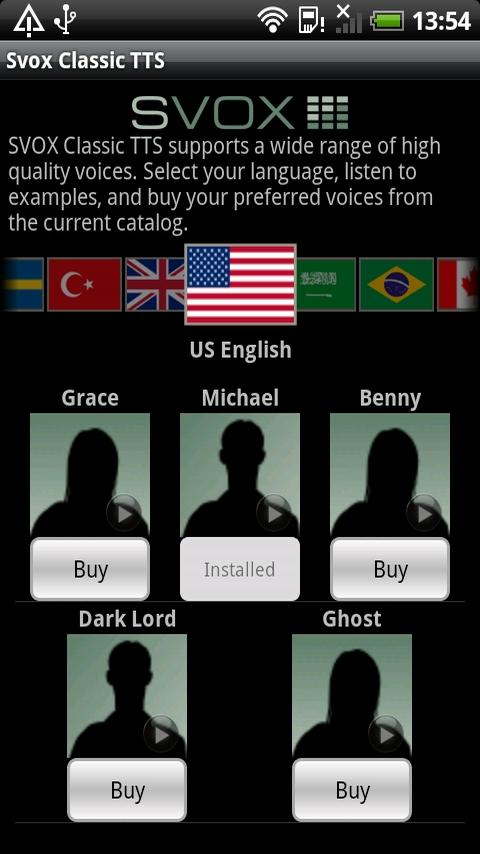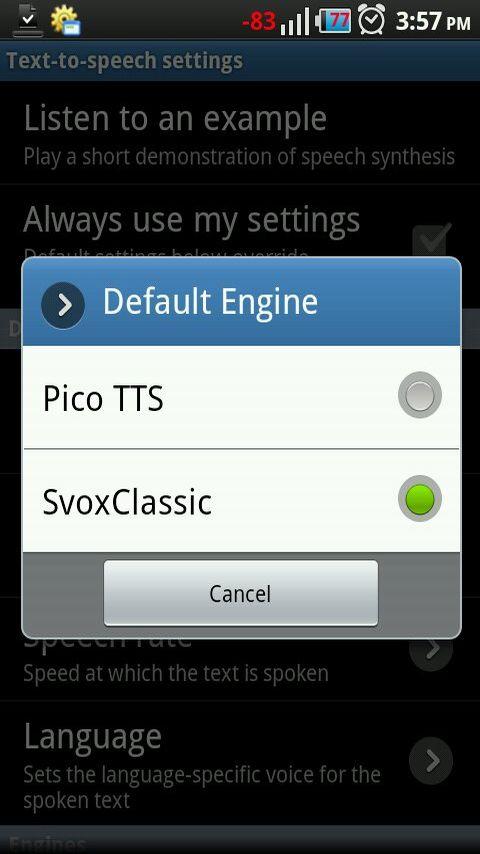 Get the most natural sounding voices for messages, navigation directions, translations, and more.
Over 40 voices in 25 languages available.
The voices sound great with Google Navigation on Android 2.2. Other great apps using voice output are TalkToMe Classic, Speech Audio Books, PDF To Speech, Good Morning, and StartTalking. Browse http://svoxmobilevoices.wordpress.com/gallery for more.
The free Classic Text To Speech Engine installs a full fledged TTS engine to your Android and comes with demo mp3s for 40 voices. Voice packages need to be purchased separately.
After installing Svox Classic TTS, enable as follows:
1) Go to Android Settings -> Voice Input & Output -> Text-to-Speech settings.
2) Activate SvoxClassic at the bottom of the screen, then select SvoxClassic as the Default Engine.
3) Open Svox Classic TTS app to browse the voice catalog and download a voice for your language.
Notes:
- Google Navigation requires that the Text-to-Speech voice matches the phone language. You can change the phone language in Android Settings -> Language & keyboard -> Select language
- If you receive error code 18 when trying to install a voice, the installation fails because of a locked file. Solutions are to mount the phone on your PC and manually remove "/mnt/secure/asec/smdl2tmp1.asec" or an empty folder named ".android_secure".
Previous Post: Bubbles
Next Post: Fancy Widget