App Specification
App Name:

Contact:Finder

Rating:

4

Apk:

com.macrosoft.android.contactfinder

Cost:

US$0.99

Developer:

http://www.mtouch.mobi/ContactFinder

Market:

market://search?q=pname:com.macrosoft.android.contactfinder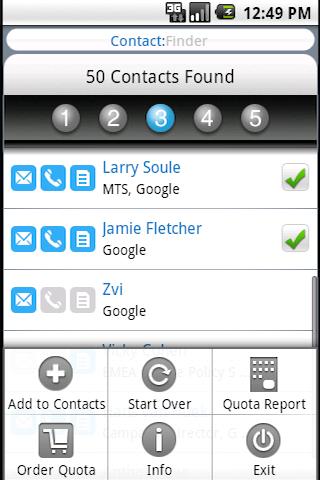 *** If you experience problem with the app, please send us feedback at macrosoft.android@macrosoftinc.com or in the feedback tab inside the app before leaving comments with rating, we will try our best to help you out with the issue(s), Thanks ***
the app gets you connect to people as contacts!
This is not a people finder through peoples names, it finds people through their employers, titles, locations. The basic idea is to find contacts for certain purposes, say, try to find a job? You may search for HR Manager.
Try a big company to feel about search capability, say, try Google, IBM, microsoft or GM, etc. And try to jointly search for title with company names, say microsoft HR …
CF helps you find contacts with email addresses, phones, companies, locations and other contact information.
Simply enter keywords (company names or Contact Titles are better), CF advanced algorithms scour the Internet, builds peoples emails, phones that can be added to your contact database.
keywords: search contact people find network social
Previous Post: desktop widget.
Next Post: Oakland Raiders Clock