App Specification
App Name:

Font for Galaxy

Rating:

3.83

Apk:

com.hongik.fontomizer

Cost:

Free

Developer:

http://www.hiciel.com

Market:

market://search?q=pname:com.hongik.fontomizer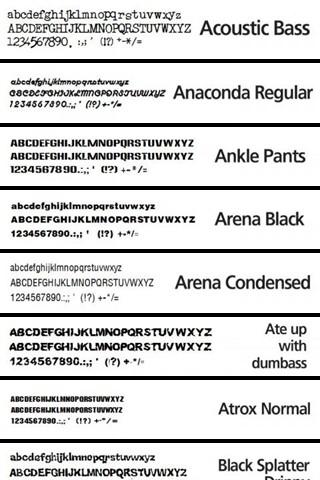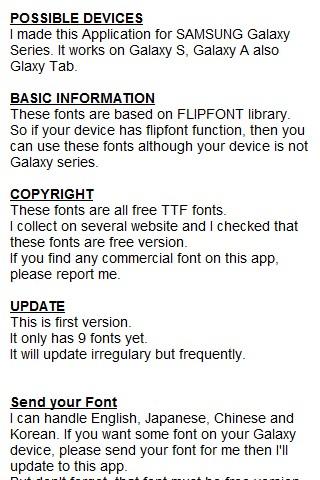 * Captivate users: Do not try this app. Captivate(AT&T) doesn't allow non-market app. You can't use this if your device is Captivate(AT&T).
* Go to home screen> settings> applications and check unknown sources. You don't have to be rooted.
* IF your Galaxy doesn't have font option, DO NOT BLAME ME, Blame your local Carrier, local SAMSUNG.
WHAT IS THIS??
- Font for Galaxy(Fontomizer)is a Font packages for SAMSUNG Galaxy Devices.
- Do not need to ROOT!!!
- You can download font apk from this app.
HOW TO USE?
- Check if your device is SAMSUNG Galaxy series.
- Run this app, and click a font what you want to use.
- Download procedure will be appeared.
- After download, install downloaded apk.
- After install downloaded apk, go to font setting menu.
*Home > Setting > Display > Font
- If everything ok, you can see a new font name on font list.
- Choose a font what you want to use.
- Enjoy it.
POSSIBLE DEVICES
I made this Application for SAMSUNG Galaxy Series. It works on Galaxy S, Galaxy A also Glaxy Tab.
* Someone Reports that it doesn't work on Galaxy Tab.
* Also can't use with Captivate. Because captivate doesn't allow non-market app.
Sorry for inconvenience.
BASIC INFORMATION
These fonts are based on FLIPFONT library. So if your device has flipfont function, then you can use these fonts although your device is not Galaxy series.
COPYRIGHT
These fonts are all free TTF fonts.
I collect on several website and I checked that these fonts are free version.
If you find any commercial font on this app, please report me.
UPDATE
This is first version.
It only has 9 fonts yet.
It will update irregulary but frequently.
SEND A FONT WHAT YOU WANT TO USE.
I can handle English, Japanese, Chinese and Korean. If you want run some fonts on your Galaxy device, please send your font to me by email.I'll update your font to this app.
But don't forget, that font must be free version.
When you send a font to me, you should send license information of that font also.
Thank you and enjoy it.
Previous Post: Thirty Indian Legends
Next Post: Rebecca Romijn SMSPhoto