App Specification
App Name:

France Wallpapers

Rating:

4.27

Apk:

com.sancron.wallpaper.france

Cost:

Free

Developer:

http://www.sancron.com

Market:

market://search?q=pname:com.sancron.wallpaper.france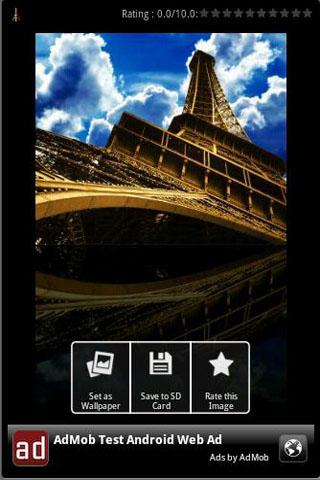 France Wallpapers… With its rich art, cuisine, history, fashion and culture, magical romance, its beautiful coastline and beaches, its mountains, and priceless ancient monuments. Quality images of Paris, Eiffel,River Seine,The Arc de Triomphe and more on your Android device.
Recent changes:
* Improved, easy to use User Interface
* Bug Fixes!
* Faster startup with cached images
* Reduced application size with auto-generated thumbnails
Important Note: We made several improvements to reduce the size of our application while providing you the best wallpapers. You might experience a short delay when you run the application only for the first time.
Sancron Team
Previous Post: JESSE nametone droid
Next Post: SVALBARD wallpaper android