App Specification
App Name:

Mobile Plans Monitor Trial

Rating:

3.23

Apk:

com.androidream.trial

Cost:

Free

Developer:

http://www.androidream.com

Market:

market://search?q=pname:com.androidream.trial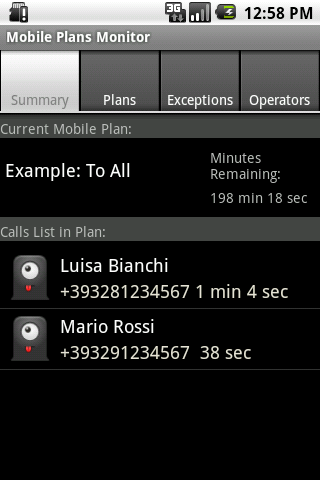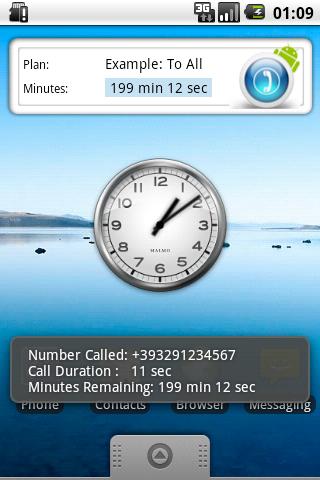 Warning Trial Version ! use only for try !
Keep under constant check the minutes of your phone plan.
Do not risk more than exceed the minutes that you included in your plan
-Counter Incoming(option) and Outcoming voice calls
-Fully configurable with all the mobile Operator
-Vodafone,Verizon,Orange,AT&T,O2,OneCall,widget,Meter
-work off-line
-no data connection
counting sms.
new widget 1×1 4×1
Please dont leave a negative feedback only why is a trial version !
Warning !
dont works with the fast reboot of htc desire hd and htc desire z
Compatible with
mobile operator :
Vodafone,Bouygues,Orange,AT&T,O2,SFR,
Vodafone,Movistar,Orange,AT&T,O2,Yoigo,
E Plus,Orange,AT&T,O2,T mobile,3 Sverige,Swefour,Tele 2,Telia
China Mobile,China Unicom,New World,3 Hong Kong,Sunday,SmarTone Vodafone
Vodafone,E KPN,Orange,AT&T,O2,T mobile
Sami Swoi,Plus,Orange,Era,Play Mobile,Heyah,
Alands Mobiltelefon,Elisa,DNA,Sonera,
Vodafone,TMN,Optimus
Wind Tim Vodafone Tre
SK Telecom,KFT,Sun Net,
Vodafone,E Plus,Orange,AT&T,O2,T mobile
Megafon,Vimpelcom (Beeline),MTS,Tele2
Aircel,CellOne A&N,AirTel,BPL Mobile,Idea,Vodafone,Mahangar Telecom,Reliance,
Vodafone,Orange,Telefonica,O2,T mobile
Vodafone,Bouygues,Orange,AT&T,O2,SFR,
Maritme Communications,NETCOM,Telenor,Telenopia,
Cellcom,Orange,Vodafone,Pelephone,
Vodafone,Softbank,Orange,AT&T,O2,NTT DoCoMo,
3 Denmark,Sonofon,TDC Mobile,Telia,
Vodafone,Verizon,Orange,AT&T,O2,OneCall
Albania
AMC
Vodafone
Eagle Mobile
Andorra
Mobiland
Austria
3 Austria
A1 Vodafone
Orange AT
T-Mobile
Tele.ring
Belgio
BASE
Mobistar
Proximus
Bielorussia
BeST
МТС (MTS)
Velcom
Bosnia Erzegovina
bh mobile
HT Mobile
m:tel
Bulgaria
Vivatel
Globul
M-tel
Repubblica Ceca
T-Mobile
Telefonica O2
Vodafone
Cipro
Areeba
Cytamobile Vodafone
Croazia
T-Mobile
Tele 2
VIP
Danimarca
3 Denmark
Sonofon
TDC Mobile
Telia
Estonia
EMT GSM
Elisa
Tele 2
Fær Øer
Faroese Telecom
Kall-GSM
Finlandia
Alands Mobiltelefon
Elisa
DNA
Sonera
Francia
Bouygues
Orange
SFR
Germania
E-Plus
T-Mobile
Vodafone
O2
Gibilterra
GIBTEL
Gran Bretagna
3 UK
Vodafone
Orange
T-Mobile
O2
Virgin Mobile
Grecia
Cosmote
Vodafone
Wind
Irlanda
3 Ireland
Meteor Mobile
O2
Vodafone
Islanda
Vodafone
Siminn
Viking Wireless
Italia
H3G Italia
TIM
Vodafone
Wind
Lettonia
LMT GSM
Bite
Tele 2
Liechtenstein
FL1
Orange
FL GSM
Tele 2
Lituania
Omnitel
Bitė
Tele 2
Lussemburgo
LUX GSM
Tango
VOXmobile
Macedonia
T-Mobile
Cosmofon
Nov Operator (VIP?)
Malta [modifica]
Go Mobile
Vodafone
Man, Isola di Manx
Telecom
Sure Mobile
Cloud9
Moldova
Moldcell
Orange
Eventis
Monaco
Monaco Telecom
Vedi Francia
Montenegro [
ProMonte
T-Mobile
m:tel
Norvegia
Maritme Communications
NETCOM
Telenor
Telenopia
Paesi Bassi
KPN
Orange
T-Mobile
Vodafone
Polonia
Plus
Orange
Era
P4 (Play Mobile)
Heyah
Sami Swoi
Portogallo
Vodafone
Optimus
Telecomunicações Móveis Nacionais (TMN)
Romania
Cosmote (in precedenza Cosmorom)
Vodafone (in precedenza Connex)
Orange (in precedenza Dialog)
Zapp
Russia
Megafon
Vimpelcom (Beeline)
MTS
Tele2
San Marino
Prima
Telefonia Mobile Sammarinese (operatore di rete mobile virtuale su rete TIM)
Vedi Italia
Serbia
Telenor
mt:s
VIP
Slovacchia
Orange
T-Mobile
Telefonica O2
Slovenia
Mobitel
SI.mobil Vodafone
TusMobil
T-2
Spagna
Movistar
Vodafone
Orange
Yoigo
Svezia
3 Sverige
Swefour
Vodafone
Tele 2
Telia
Svizzera
In&Phone
Sunrise
Orange
Swisscom
Tele2 CH
Coop Mobile
United Mobile
Lebara Mobile
Mobilezone
TalkTalk
M-Budget Mobile
Yallo
Ucraina
Kyivstar
MTS
life:)
Beeline
Golden Telecom
Ungheria
T-Mobile
Pannon
Vodafone
Vaticano
Previous Post: Game spot
Next Post: Brad Pitt Quotes