App Specification
App Name:

Music

Rating:

3.5

Apk:

com.metosphere.musicfree

Cost:

Free

Developer:

http://metosphere.com/music/free.html

Market:

market://search?q=pname:com.metosphere.musicfree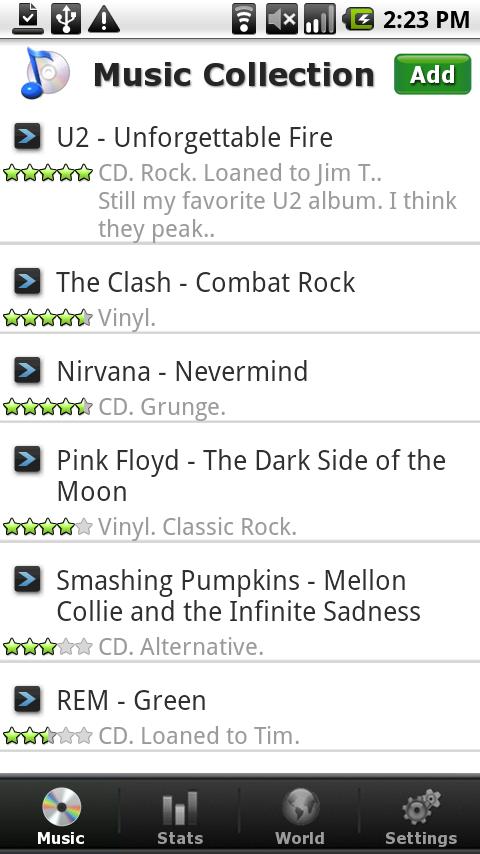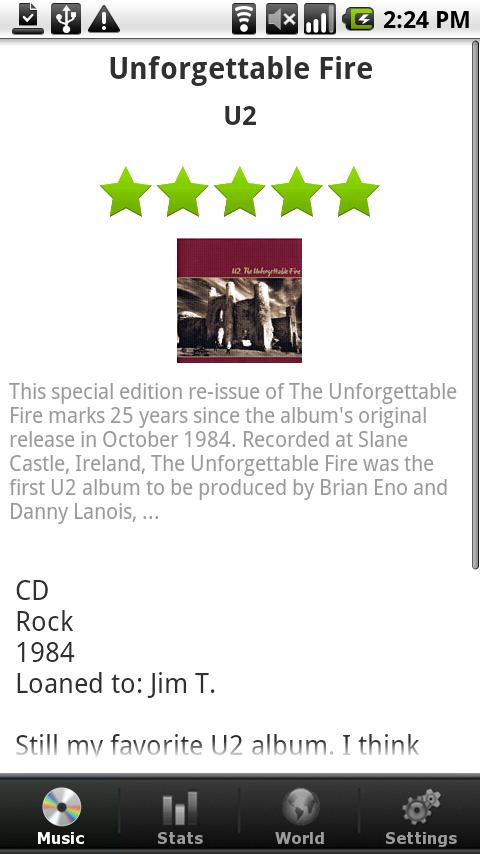 Music collectors, track your music collection with this app(cds, vinyl, etc.)
Manage your music along with personal ratings, loan status, and notes.
Use your phone's camera to scan the barcode on the case. If the album artwork isn't found on our server, take a photo and store your own album art.
Save your data to the server to restore if you lose or change your phone.
Export your info in CSV format to open with any spreadsheet.
Share your ratings and notes with others.
Keep track of music that you've loaned out to others.
(This app doesn't play songs It's for tracking your physical music collection)
Recent changes:
Dec 18, 2010
- Swipe/Fling left or right when viewing an item to quickly see the next item (Android 1.6+)
- Added wish list count to Stats
- Added Progressive Rock to genres
- Fixed CSV, Search, Wishlist bugs
Oct 24, 2010
- Added Wishlist
June 18, 2010
- Added Bulk Barcode Scan
Previous Post: Android Tarot Reader
Next Post: Ghost Commander Samba Plugin