App Specification
App Name:

SleepTimer

Rating:

4.56

Apk:

ch.pboos.android.SleepTimer

Cost:

Free

Developer:

http://pboos.ch/wordpress/sleeptimer-for-android/

Market:

market://search?q=pname:ch.pboos.android.SleepTimer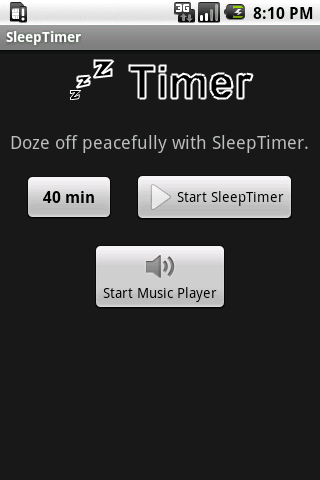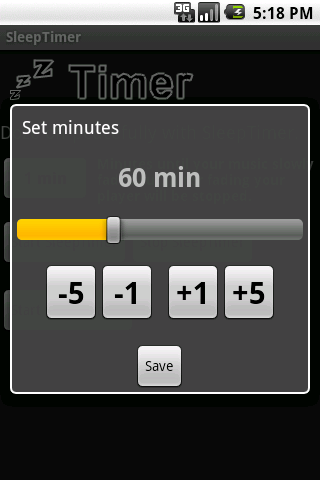 Fall asleep to your favorite music. Will turn of the running music player.
Features:
- Fade out + stop music
- Many players supported
- Stop other app
- Shake extend
- Turn off WiFi/Bluetooth
- Airplane mode
- Unlock for no ads and more features
– no ads
– Widget
IMPORTANT:
Before Froyo: App should be able to kill any Music App.
Froyo and higher: This app can not kill the app starting with Froyo. But SleepTimer will try to pause the music player with a Pause Media Broadcast (selectable in settings). If that does not work, it is not possible to pause the music off that app. Google made that impossible for me with some changes in Froyo.
Froyo and higher rooted: If the phone is rooted it tries to still kill the if possible through root, but is not always successful.
Previous Post: Client for the google definiti
Next Post: Fuelage