App Specification
App Name:

Sudoku Way

Rating:

Apk:

net.cogitas.sudokuway

Cost:

US$1.57

Developer:

http://www.cogitas.net/blog

Market:

market://search?q=pname:net.cogitas.sudokuway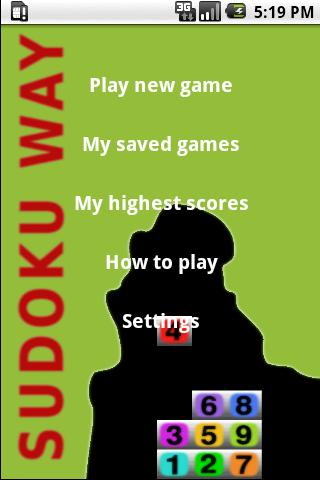 Puzzle game. Imagine a Tetris inspired game with numbers instead of shapes falling down. And now imagine youve got to place the numbers as in the game of Sudoku. Sounds interesting? Try it for an entertaining brain workout!
You can try the fullyfunctional Lite version before buying this one.
This paid version enables you to save your games in progress (really useful), has more settings options for game speed and has no ads.
Settings for this version include speed of game (including variable increasing speed to ease you into faster speeds), difficulty level (the more difficult, the more likely it is that you have to wait a long time for a specific digit to show up) and playing mode (affects the way your score is calculated when you match a Sudoku pattern).
Join us on Facebook :)
PRICE PROMOTION FROM 17TH JANUARY TO 17TH FEBRUARY ONLY £0.99 (NORMALLY £1.29)!
Previous Post: StarShooter
Next Post: Gò Diegó Gò Puzzle