App Specification
App Name:

Wheel to Riches

Rating:

3

Apk:

com.games.WheelofRiches

Cost:

Free

Developer:

Market:

market://search?q=pname:com.games.WheelofRiches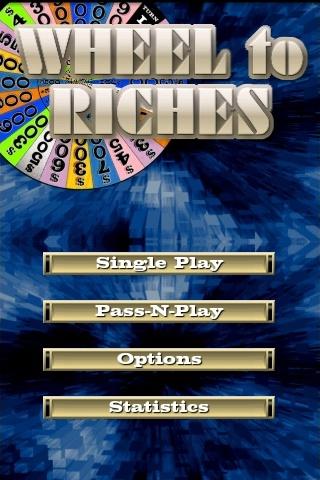 **OPEN BETA! Please comment on any issues encountered or email to marmoore@altriak.com**
Enjoy Wheel of Fortune? If yes, then you will enjoy Wheel to Riches!
Wheel to Riches is a puzzle game where you spin a wheel for money by solving the given series of words.
Features include:
Full solo player versus the AI with freeplay round and bonus round.
PassNPlay feature where you can play against your friends
More than 800 puzzles
Ability to save your progress in game
Statistic pages to see how well youve done in the past and what phrases you have solved so far
The wheel speed is totally in your control!
Previous Post: Sudokster: Sudoku Games Demo
Next Post: Ultimate Slider Puzzle