App Specification
App Name:

Win The Powerball / Lotto

Rating:

4.33

Apk:

com.markismail.PowerBall_lottery

Cost:

US$1.99

Developer:

http://www.marksapplications.com

Market:

market://search?q=pname:com.markismail.PowerBall_lottery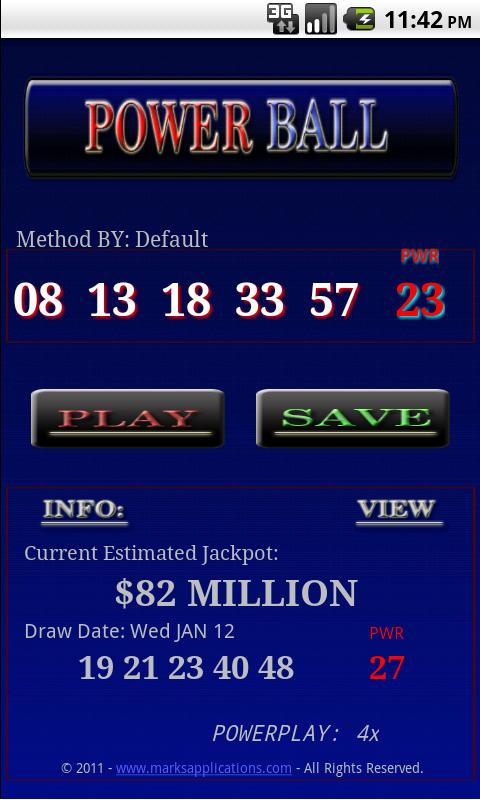 This is a must have app, if you play POWERBALL, this is one of the few you apps that will actually use all the time. It keeps you up to date with the all the information you need. Check out all the features below:
Features:
1 – Three Methods to play:
– Default Method: Based on computer logic to help you pick the winning numbers.
– Winning Numbers Method: Based on the past winning numbers from 1997 till present. The APP will pick the most frequent numbers.
– Extreme Method: An animated Method that makes it fun and more exciting to pick your numbers. Youll be able to see how your android phone is picking your numbers.
2 – Alerts, the best feature ever. Your APP will check your numbers automatically while you're sleeping or doing something …, as soon as the result comes out. It will send you alerts telling you how much you have won, if you didnt win, the APP will still send you alert to show the winning numbers.
3 – Latest Estimated Jackpot.
4 – Get the Latest Winning Numbers, just few minutes after the draw. Powerball drawings are held Wednesday and Saturday at 11:00 p.m Eastern Time. So you should have the results at 11:05.
5 – Home screen Widget that keep you updated about the Mega Million Jackpot.
6 – The APP Will check your numbers and tells exactly how much you've won by just one click and show your winning numbers. You don't have to go through your numbers anymore and compare, let the APP do the work for you.
7 – The APP will remind you all the time when the POWERBALL is playing from coast to coast. It will automatically adjust to your time zone.
8 – Single Draw, and Multi Draw options have been added.
9 – POWERPLAY option has been added.
10 – Every time you play, or enter your numbers manually, the APP will automatically set the date to the current drawing date.
11 – The APP will check your numbers according to date.
12 – Custom Integrated Keyboard to help you enter your numbers easily. Its way faster than scanning the numbers.
13 – The APP is in HD, it's simple and easy to use.
14 – The APP is reliable and accurate. Every attempt is made to ensure that the Winning numbers is accurate.
15 – Move to SD card option is available.
16 – Is this it? No way. Our goal is to make this APP the best APP ever, help you win, make your life easier, and save you time.
18 – If you think that the APP is missing something or you have an idea to improve it, please let us know and well add it for you. Most of the above features were requested from our users.
19 – The best feature is yet to come.
Good luck..
Previous Post: Siddur Sfaradi Paid Version
Next Post: Collins Gem Russian Dict