App Specification
App Name:

23,000 GREAT QUOTES

Rating:

3.82

Apk:

com.cramzy.quotes

Cost:

Free

Developer:

http://www.cramzy.com

Market:

market://search?q=pname:com.cramzy.quotes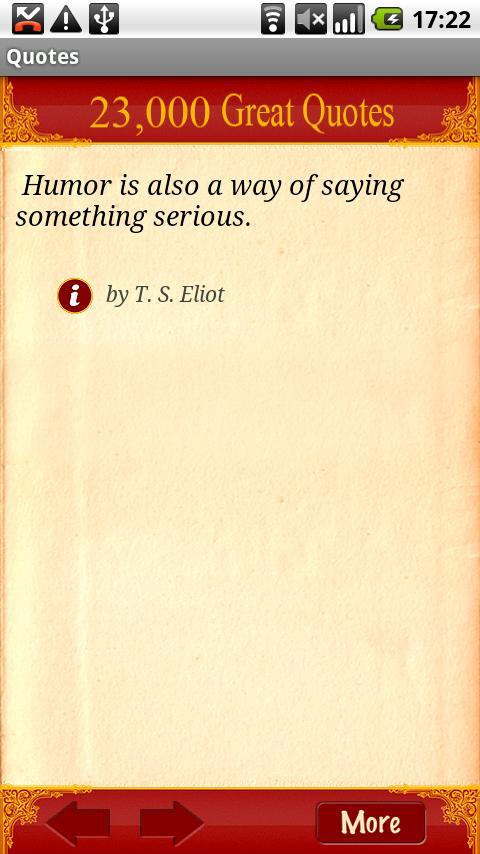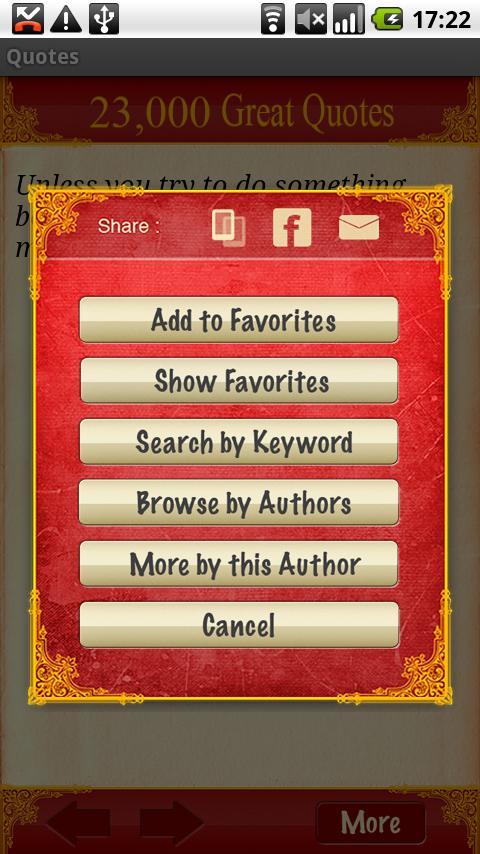 Wisdom spread through quotations all over the world and collected in a single place!
THE WORLDS FINEST QUOTES COLLECTION!
Here's to the crazy ones. The misfits. The rebels. The troublemakers. The round pegs in the square holes.
The ones who see things differently. They're not fond of rules. And they have no respect for the status quo. You can praise them, disagree with them, quote them, disbelieve them, glorify or vilify them.
About the only thing you can't do is ignore them.
Find out what the greatest minds on Earth have said.
——————-
EXAMPLES
——————-
A positive attitude may not solve all your problems, but it will annoy enough people to make it worth the effort.
- Herm Albright
—–
There never was a good war or a bad peace.
- Benjamin Franklin
—–
Do not worry about your problems with mathematics, I assure you mine are far greater.
- Albert Einstein
—–
To be yourself in a world that is constantly trying to make you something else is the greatest accomplishment.
- Ralph Emerson
—–
The only way to keep your health is to eat what you dont want, drink what you dont like, and do what youd rather not.
- Mark Twain
——————-
OVERVIEW
——————-
23000 GREAT QUOTES features quotes from celebrities authors, politicians, philosophers, movies, books and more. Its the perfect application where you can find inspiration when you need it, helps you motivate a friend when he or she needs it, and where you find the most famous, wise and eternal thoughts that were ever said.
——————-
QUANTITIES
——————-
• 23,000+ quotes
• 7,000+ authors
• No internet connection required
——————-
SECTIONS
——————-
• Favorites section for your favorite quotes
• Search quotes by keywords
• Browse quotes by author
• More quotes by an author, with a single click
——————-
SHARING
——————-
• Facebook
• Twitter
• E-mail
• Copy to clipboard
• E-mail All Favorites
——————-
COMMON FEATURES
——————-
• Author info for most of the authors
• Easy PREV/NEXT navigation
• Beautiful and intuitive design
Enjoy!
——————-
GET IN TOUCH
——————-
Website: www.cramzy.com
Email: info@cramzy.com
Twitter: www.twitter.com/cramzy
Facebook: www.facebook.com/cramzy.fb
Facebook Page: www.facebook.com/23000GreatQuotes
Previous Post: Locate My Droid Full
Next Post: SG Carpark