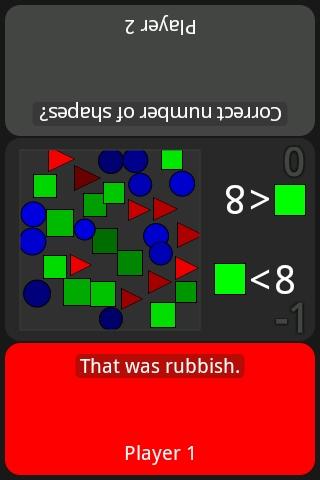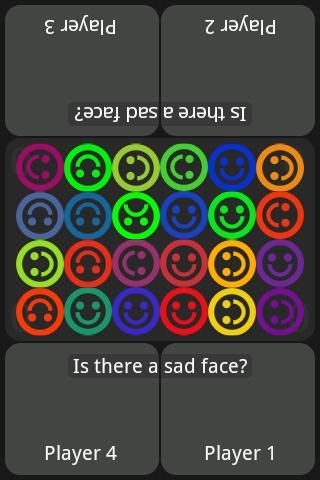 4 Player Reactor is a fast, clean and educational reaction game.
Up to 4 players battle simultaneously for the best reaction in 20 frantic modes:
Hit when color matches colorword!
Hit when equation is correct!
3shapes of the same kind!
Hit when white!
5 different shapes!
Can the mouse get the cheese?
Is the capital correct?
Hit when bars have same length!
Is the flag correct?
Hit after countdown reaches 0!
Hit when you see a circle!
Correct number of shapes?
Is there a sad face?
Hit when arrows have same length!
Hit if colored shapes collide!
Hit when bars have same length!
2 shapes of the same kind!
Who has a bigger population?
Which country has more area?
Are there 4 in a row?
Lots of different settings and adaptive modes.
Available in a dozen different languages, which can be changed ingame (learn new languages while playing!)
Play it on easy to insane.
Not convinced? Read the comments!
Keywords: Multiplayer, Reaction, multiplayer, splitscreen, splitscreen, fast game, two player, fast reflexes.
Recent changes:
Added more languages: English, German, Chinese, Dutch, Polish, Korean, French, Czech, Spanish, Italian, Portuguese, Russian, Portuguese (Brazil), Chinese (Taiwan)
Added switch to change language ingame! (Restart required)
Removed bugs from population mode.
Improved performance and quality on high and lowresolution screens. Please email me bugs!!
Reduced size, and also uses SD card for storage. If you get an install error, uninstall the old version first!
Added festive graphics! Yay! :)
App Specification
App Name:

4 Player Reactor

Rating:

4.75

Apk:

coolcherrytrees.games.reactor4

Cost:

US$1.93

Developer:

http://www.doc.ic.ac.uk/~rb1006/projects:reactor4android

Market:

market://search?q=pname:coolcherrytrees.games.reactor4