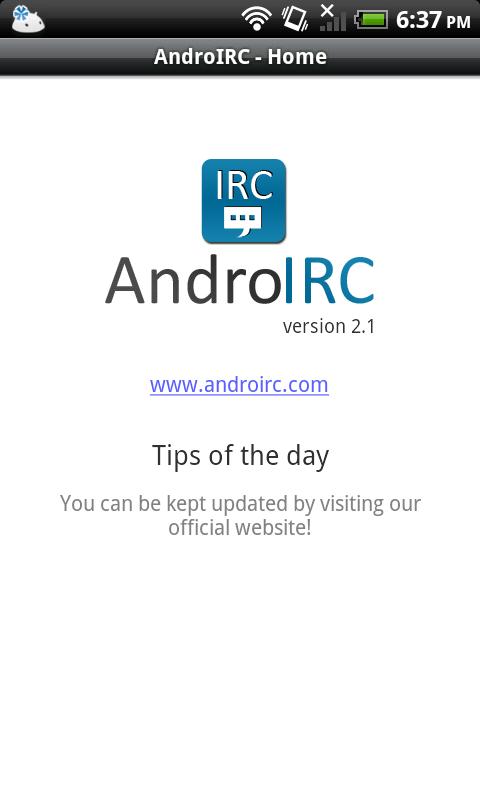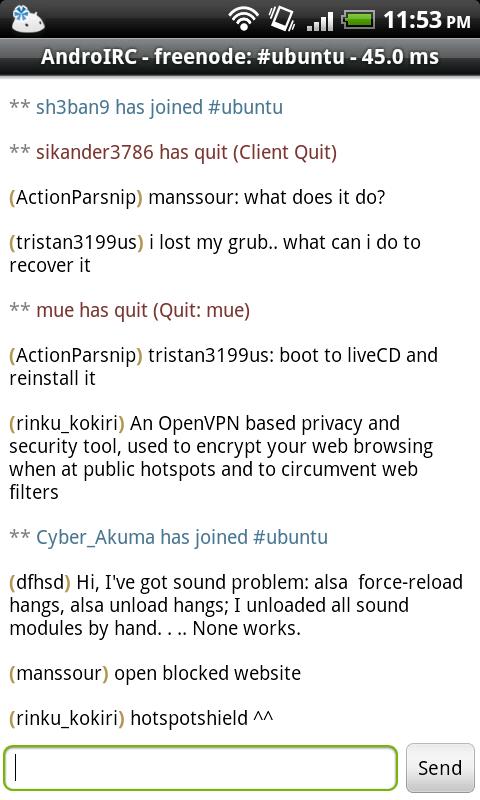 AndroIRC is an IRC client which can connect to several server (secured or not) at the same time.
Features:
– mIRC colors
– auto join channels on startup
– nickserv auth
– Android notifications
– copy & paste
– logging
– sasl auth (plain and blowfish)
– Multiple servers connections (SSL support)
– Easy access menu to kick, ban, change privileges…
1 star rating is useless! Please send us bug reports by mail including logcat to help us improving AndroIRC.
You can see userlist by double tapping on the screen, and the open channels list by single tapping. You can also navigate between open channels by flinging!
All latest news on http://www.androirc.com .
Bugs? Report them in http://bugs.androirc.com !
What's new on v2?
– Added logging support
– Added support for SASL authentication, with support for PLAIN and BLOWFISH (only on Android 2.3 and above) encryption
– Complete rewrite of app from scratch
– Graphics changes
– And lots, lots of bugs fixed!
What's new on v2.1?
– Service support: the app no longer disconnect when in background!
– added Swedish and Czech translation. Many thanks translators!
– added support for ident per server
– added support for hl list per server. Every words in that list will cause a HL.
– reworked socket connection. You should now be able to connect everywhere.
App Specification
App Name:

AndroIRC

Rating:

4.05

Apk:

com.androirc

Cost:

Free

Developer:

http://www.androirc.com

Market:

market://search?q=pname:com.androirc