App Specification
App Name:

AppSwipe!

Rating:

3.95

Apk:

com.magouyaware.appswipe

Cost:

Free

Developer:

http://sites.google.com/site/magouyaware/products/appswipe

Market:

market://search?q=pname:com.magouyaware.appswipe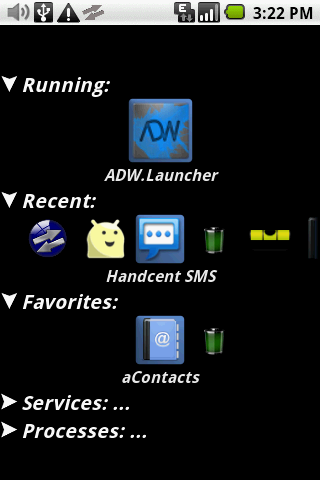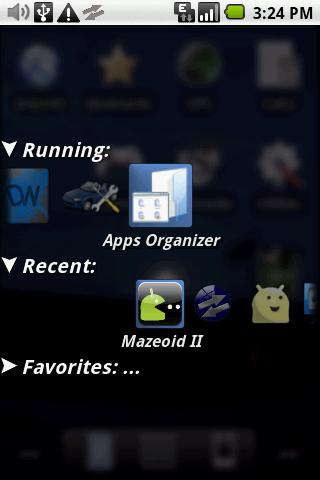 Task switcher/manager with Alt+Tab look & feel
Quickly switch between the following:
- Running Apps
- Recent Apps
- Favorites
- Services
- Processes
CLOSING APPS:
——————–
On Android 2.1 or older apps can also be closed by swiping up on the icon.
On Android 2.2 or newer a running app's memory can be cleaned up but the apps cannot be closed (this is a limitation of Android and is not a bug). This is done by long-pressing on the icon.
WIDGET:
——————–
Switch between running applications with a desktop widget.
AppSwipe! Donate Key:
——————–
The following features can be unlocked by purchasing the "AppSwipe! Donate Key" app:
- Close apps from the widget
- Launch from home button
- Launch from Search button
- Launch form Camera button
- Status bar notification on boot
BUGS/FEATURE REQUESTS:
——————–
Please, please, please… Email me (magouyaware@gmail.com) if you encounter a bug, have any problems using this app, or have a feature suggestion.
RATINGS/COMMENTS:
——————–
If you like this app, please take a few moments to rate it and leave a comment.
OTHER APPS:
——————–
- AppSwipe! Donate Key
- Quick Launch
Recent changes:
-Minor maintenance updates
Previous Post: memozzang note, diary
Next Post: Meditation-Surrender Addiction