AtomaRSS Scrollable NewsWidget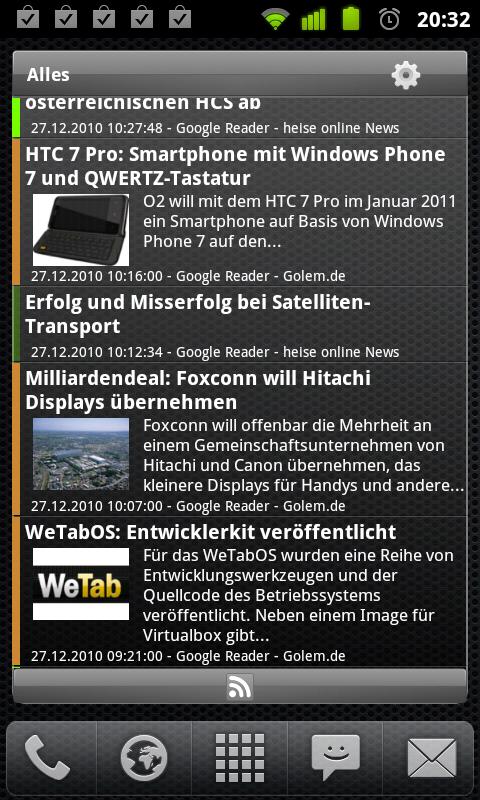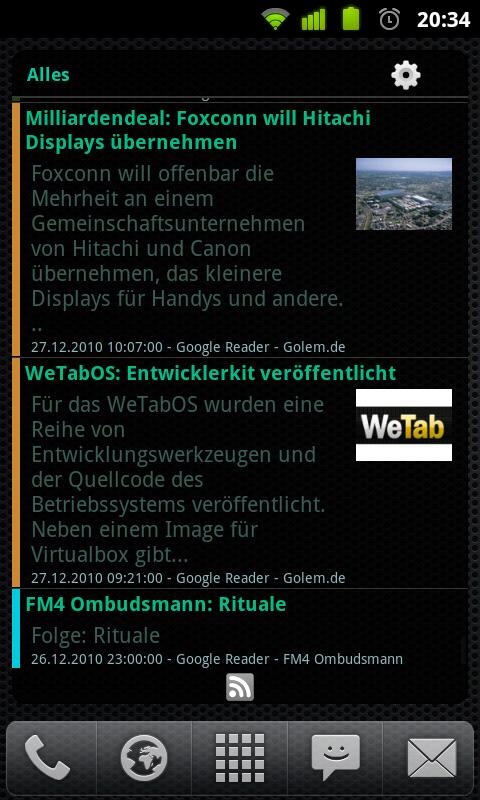 Configurable Google Reader / RSS / ATOM – News Reader App Widget for your homescreen.
** Make sure you have enabled scrollable widgets in your Launcher **
* Google Reader
* rss/atom/google news feeds
* Share Button
* 3 sizes
* images
* colored bars per feed
* loads links for offline use (EXPERIMENTAL)
* various layouts (from Android 2.1 on)
* some new news-entry-layouts (image left, image right (=Standard), image left below title, image right below title)
please commit bugs and problems
Advice: not every feed offers images. If you think the feed contains images, that are not shown, please tell me the feed-url, so I can fix it.
Advice 2: if no news are shown, probably the used launchers doesn't support scrollable widgets. Please try LauncherPro, ADW.Launcher, Zeamlauncher or such, activate scrollable support und try again. Thanks!
Recent changes:
* refreshed preferences-dialogs.
* choose text colors
* choose text sized (technically limited)
* new color-chooser-dialog
* additional Backgrounds-Layouts (now from Android 2.1!!)
* limit news per feed
* limit words per news
* news-browser with forward/backwards button
* renewed read-store
* Gingerbread (Android 2.3) compatibility
* several fixes
App Specification
App Name:

AtomaRSS Scrollable NewsWidget

Rating:

3.49

Apk:

nax.naxan.naxReader

Cost:

Free

Developer:

http://www.atomarss.de

Market:

market://search?q=pname:nax.naxan.naxReader