App Specification
App Name:

Auto Redial

Rating:

3

Apk:

com.adengappa

Cost:

US$1.99

Developer:

http://www.adengappa.com/auto-redial

Market:

market://search?q=pname:com.adengappa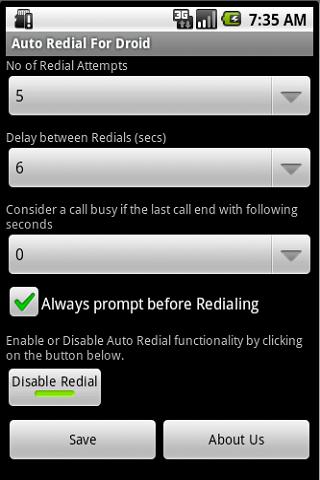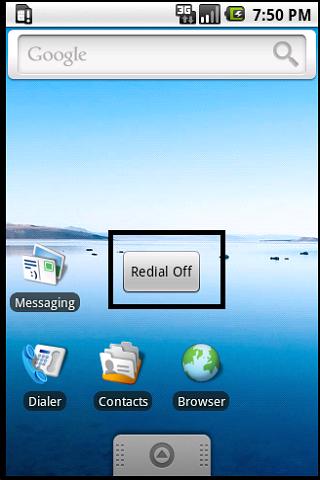 Line busy? Need to get in touch? Auto Redial lets you redial numbers automatically. Set the number, and the time between calls, and let your phone dial automatically for you. Use it to get on-the-air of your favorite radio show, or win tickets to shows and sporting events.
Features
• Option to enable/disable redial
• Number of Redial Attempts can be configured
• Delay between Redial attempts can be configurable.
• Enable Speaker mode when Redialing
• Home Screen widget to Enable/Disable Redial.
How it Works?
The Redial application runs in the background listening to any call you dialed ending with '0′ seconds ( All busy calls ends with 0 seconds in the call log. Some carriers do not support this). If the last call ended in 0 seconds then the application automatically redial the number. If your busy call does not end in 0 secs but ends with in certain time then you can configure "Consider a call busy field". If the busy call does not hang up at all then you need to manually hang up for the system to redial the last number immediately. Currently the Android SDK does not support detecting a busy signal.
If you want an option to cancel Auto-Redial in between redial attempts check the check box 'Always Prompt Before Redialing'. This will show a Cancel dialog in between each Redial attempts.
How do I dial it real fast?
If you want to make repeated dials as fast as possible follow the steps below
Set the Delay between Redial to 2 seconds
Uncheck the Prompt before Redialing option
Save the Settings
Dial the number to reach from your phone.
When you hear busy tone just Hang up by pressing the End Call button. This will redial the number immediately.
If you have any questions please look at the developers website or email the developer.
Previous Post: DGT Compass 2
Next Post: Fun Finder