App Specification
App Name:

Bedside 3.0 Night Clock

Rating:

4.51

Apk:

net.geekherd.bedsidepro2

Cost:

US$1.79

Developer:

http://www.danvelazco.com

Market:

market://search?q=pname:net.geekherd.bedsidepro2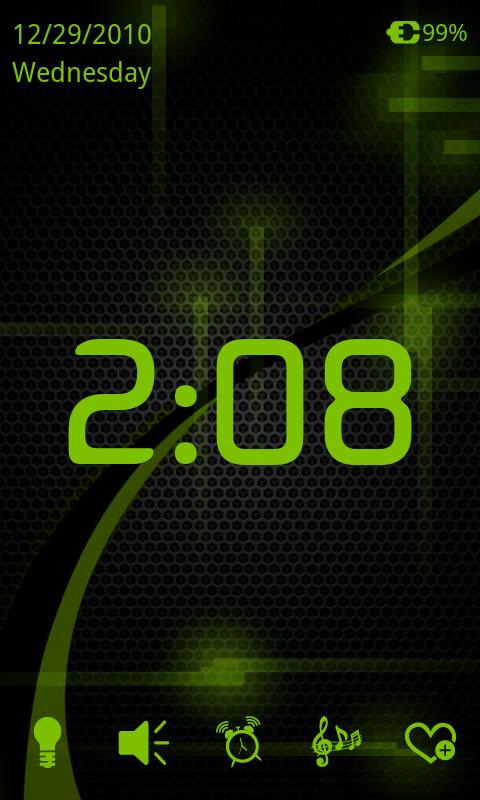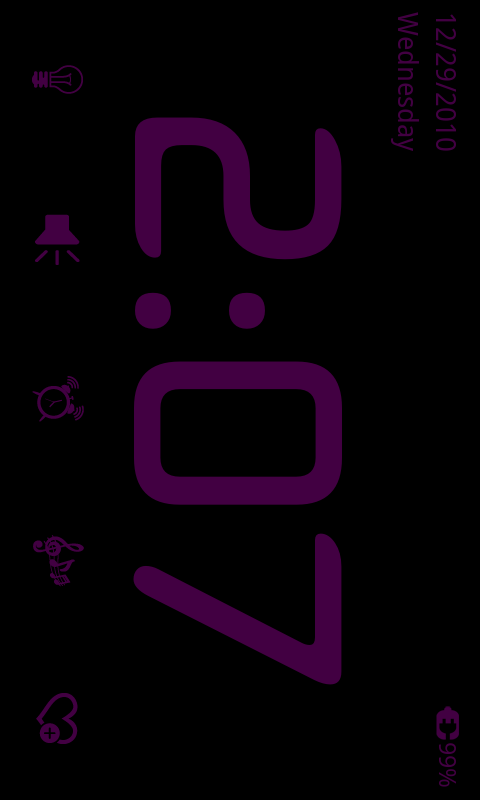 Bedside is a very dimmed customizable night clock. You can change the colors of the letters/icons, as well as the background. You can even let it use your own wallpaper if youd like.
The biggest feature of Bedside is the so-called Bedside Mode. While in Bedside mode, a service will be started that will switch your phone to silent mode, and it will monitor for calls and text messages to allow them to ring through. You can configure a whitelist of callers, and theres even a separated list for text messages.
It includes a built-in screensaver mode that will remove everything from the screen and leave it completely black, and re-enable everything again once you touch or move your phone. This way, your screen wont have burn-in issues, and you can see the time quickly at night without having to lock/unlock your phone everytime.
Also features the ability to use the Text-to-Speech engine in your phone. Enable it in the preferences and Bedside will speak the time anytime you long-press on the screen while Bedside is open.
Bedside can be automatically started everytime you charge or dock your phone.
It does not include a built-in alarm. Use the alarm application that came with your phone or a 3rd party alarm application from the market. You can make Bedside link to any application when you click the icons shortcuts on the main clock display for the first time.
This latest version of Bedside (3.6) has branched from the upcoming version 4.0 which will include a built-in alarm (that you wont be forced to use, you will still be able to use your own alarm application), automatic profiles (depending on location, time and other states), weather and other new things. Plans were to have version 4.0 ready a long time ago but it was not possible due to personal issues. 4.0 is still buggy and incomplete so I decided to bring a few things from it to 3.5 and make it 3.6. I hope this is enough for now, as I will be working real hard to make 4.0 a possibility.
With Bedside, now you can get your sweet dreams without worrying!
Issues after updating to latest firmware? Uninstall the app, then reinstall it: http://goo.gl/cHv5
Recent changes:
- Improve icons quality on all screen sizes.
- New on-screen button to toggle Bedside Mode.
- Fix low max call volume settings on some devices.
- If an icon shortcut is not set or cant be launched, user will be allowed to select a new application.
- Allow user to set up and change icon shortcuts from the main clock by long-pressing on each icon.
- Fix: SMS icon was showing while on screensaver mode.
- Improve the scheduled brightness with better time setup.
Previous Post: worldTime
Next Post: Auto Ringmode Lite