App Specification
App Name:

Blackjack Beautiful

Rating:

4.1

Apk:

com.nfs.blackjack80s

Cost:

US$0.99

Developer:

http://www.novaforastudios.com

Market:

market://search?q=pname:com.nfs.blackjack80s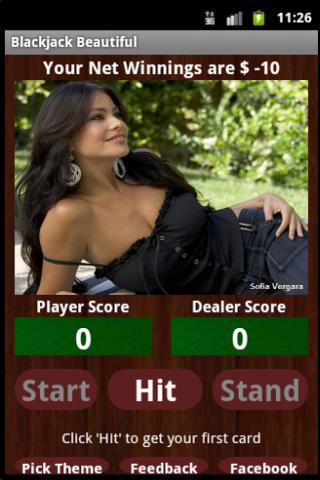 We all know and love blackjack. This is a beautifully simplified version of blackjack tailormade for your android phone with pictures of Female Celebrities, Male Celebrities, Super Cars and Nature.
There is a beautiful picture in the middle of the screen. Click Change Picture Theme to choose one of 4 picture categories: Female Celebrities, Male Celebrities, Super Cars and Nature. Everytime you win a game, you are rewarded with a new picture.
The blackjack rules have been simplified to focus on a fun experience for the phone screen. Collect $1,000 to win the game.
Blackjack, also known as Twentyone or Vingtetun (French : twentyone), is the most widely played casino banking game in the world.[1][when?] Blackjack is a comparing card game played with one or more French decks of 52 cards. The player draws cards to an initial two card hand with the object of bringing the total hand value as close as possible to 21 without exceeding it, so that the house, which plays after the player, will stop short of the players total, or will lose by exceeding 21. Many rule variations of blackjack exist. Since the 1960s, blackjack has been a high profile target of advantage players, particularly card counters, who mentally track the profile of cards yet to be dealt, and adapt their wager and playing strategy accordingly.
CATEGORY DESCRIPTIONS:
A celebrity (sometimes referred to as a celeb in popular culture) is a person who is easily recognized in a society or culture.
Generally speaking, a celebrity is someone who gets media attention and in certain circumstances show an extroverted personality. There is a wide range of ways by which people may become celebrities: from their profession, appearances in the mass media, or even by complete accident or infamy. Instant celebrity is the term that is used when someone becomes a celebrity in a very short period of time. In some places, someone that somehow achieves a small amount of transient fame, through hype or mass media, is stereotyped as a Bgrade celebrity. Often the stereotype extends to someone that falls short of mainstream or persistent fame but seeks to extend or exploit it. In the 21st century, the insatiable public fascination for celebrities and demand for celebrity gossip has seen the rise of the gossip columnist, tabloid, paparazzi and celebrity blogging.
The rise of international celebrities in acting and popular music is due in large part to the massive scope and scale of the media industries, enabling celebrities to be viewed more often and in more places.
Supercar is a term used most often to describe an ultrahighend exotic automobile, whose performance is superior to that of its contemporaries. It has been defined specifically as a very expensive, fast or powerful car.[1] Stated in more general terms: it must be very fast, with sporting handling to match, it should be sleek and eyecatching and its price should be one in a rarefied atmosphere of its own.[2] However, the proper application of the term is subjective and disputed, especially among enthusiasts. Socalled vehicles are typically out of the ordinary and are marketed by automakers to be perceived by the public as unusual. The supercar can take many forms including limited production specials from an elite automaker, standard looking cars made by mainstream companies that hide massive power and performance, as well as models that appeal to hardcore enthusiasts from manufacturers on the fringe of the car industry.[3]
Previous Post: Bubbles Classic
Next Post: Anagram Puzzle