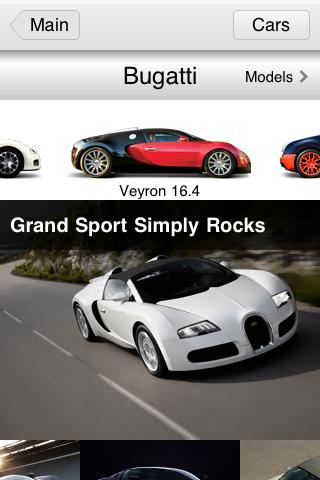 Cars, Cars and More Cars!!!
CarBuzz is a new and exciting application that provides car enthusiasts with all of the latest news and information from the automotive industry. Featuring reviews, rumors, updates and beautiful pictures of the latest automobiles, CarBuzz is the only application a car lover will ever need on his/her Android.
Why CarBuzz?
– News
– Rumors
– Previews
– Reviews
– Features
– Pictures
– Spy Shots
– Automobile technical specifications
– Social networking with other car lovers
And let's not forget all of the technical advantages:
– Works with all Androids
– Multitasking compatible
– Fast Switch capabilities
– Lightening quick picture loading times
– Saving Pictures
How often do you update CarBuzz?
CarBuzz is updated every day, without exceptions. Our journalists and writers are hard at work, providing you with numerous and varied rumors, news and information on a daily basis.
Is CarBuzz integrated with social networking?
Yes! Leave comments for any text via your Facebook account. Argue the pros and cons of any car model with other CarBuzz readers and even send interesting articles to your friends. All of these great social features are available or will become available in the very near future.
Yes, but how many cars are covered in CarBuzz?
We cover just about every manufacturer and model on the market. Here is just a small taste:
Acura
Aston Martin
Audi
Bentley
BMW
Bugatti
Buick
Cadillac
Chevrolet
Chrysler
Dodge
Ferrari
Ford
GMC
Jaguar
Jeep
Honda
Hummer
Hyundai
Infiniti
Kia
Infiniti
Lamborghini
Land Rover
Lexus
Mercedes-Benz
MINI
Porsche
Rolls-Royce
Spyker
Subaru
Suzuki
Tesla
Toyota
Volkswagen
Volvo
Oh, and did we mention it is free?
Your feedback is very much appreciated.
– CarBuzz Team
– feedback@carbuzz.com
App Specification
App Name:

CarBuzz 659 cars inside

Rating:

3.78

Apk:

com.wapit.carz

Cost:

Free

Developer:

http://www.carbuzz.com

Market:

market://search?q=pname:com.wapit.carz