App Specification
App Name:

Casino Blackjack Pro

Rating:

3.78

Apk:

com.cwarner62.casinoBlackjackPro

Cost:

US$0.99

Developer:

http://grove.ufl.edu/~cwarner/android/blackjack/

Market:

market://search?q=pname:com.cwarner62.casinoBlackjackPro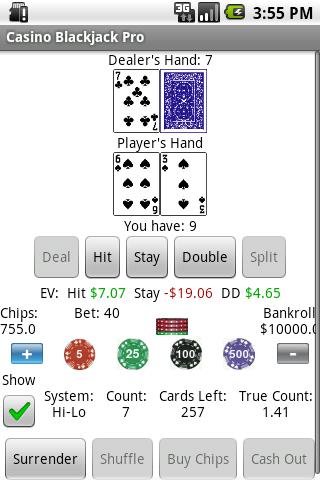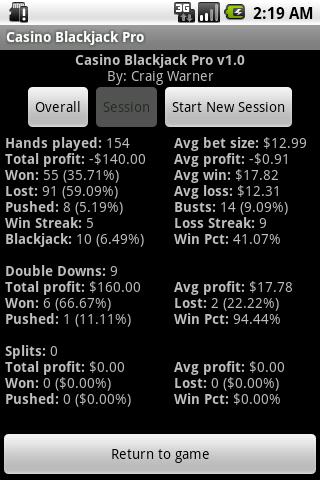 The ultimate blackjack app feature packed and customizable, with multiple game modes!
Regular Mode is a completely realistic blackjack simulator (card order in the shoe is randomized during the shuffle) that provides all the great features of casino blackjack free plus:
*Expected Value (EV) calculated live for every play based on the up cards.
*Card Counting: choose from 5 preprogrammed systems or create your own!
*Customize the rules, # of decks, and when decks are shuffled.
*Start a new session anytime from the Stats page.
*Lots of stats tracked for both the current session and overall including stats on your double downs, splits, and hand distribution.
*New bigger buttons.
Cheat Mode stacks the deck in your favor. Despite what some reviewers seem to think, the deck is randomized in Regular Mode. However, in Cheat Mode it is harder for you to bust and less likely for you to pull a low card on a double down. If youd rather win than have realistic odds, Cheat Mode is for you!
Sim Mode allows you to prepare yourself for any scenario you may face in a casino. Its not actually a blackjack game you cant win or lose bets but it allows you to see your EV for any possible hand. Click on either of your cards or the dealers first card to choose the value of that card and see what your odds are. Click a card again to change its value. Not sure if you made the right play while at a casino? Enter the hand in Sim Mode and find out!
XRay Mode: Wouldnt you like to have a pair of XRay glasses at the blackjack table that allow you to see the dealers hole card? Now you can with XRay Mode!
Previous Post: prince Of Persia nes game
Next Post: 16 Sudoku Challenge