App Specification
App Name:

Clipboard Dialer

Rating:

4.67

Apk:

se.grenangen.clipboarddialer

Cost:

Free

Developer:

http://grenangen.se

Market:

market://search?q=pname:se.grenangen.clipboarddialer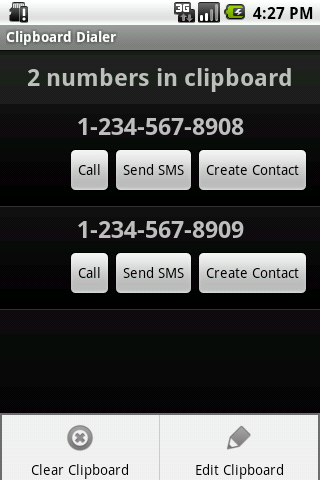 This little tool enables you to extract all phone numbers from what ever text is in your clipboard. It will present a list of all numbers it finds giving you an easy way to call, SMS or create a new contact.
Recent changes:
This release only fixes some minor issues that has been found.
Bugs fixed:
* Did not recognize numbers separated by a dot (.)
* When displaying numbers in the main list they where not always formatted according to the phones Locale.
Previous Post: Call of Duty: MW2 Theme
Next Post: Sunflower Ingatlan