Documents To Go 2.0 Main App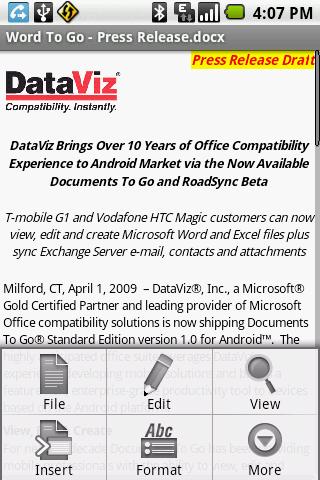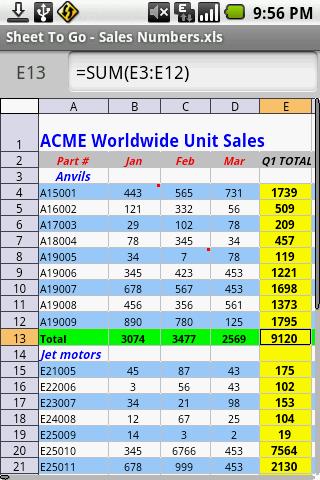 FREE! View native Microsoft Word, Excel and PowerPoint files and attachments with Documents To Go Main App. Supported file formats include .doc,. docx,. xls,. xlsx,. ppt,. pptx.
#1 SELLING OFFICE APPLICATION!
Over 1 million downloads and 225,000 paying customers!
Looking to edit your documents as well? Buy the 'Documents To Go Full Version Key' on sale NOW for $14.99 (originally $29.99, a 50% sale!)
When purchased the Full Version Key unlocks the ability to:
•Edit , View & Create Microsoft Word, Excel, & PowerPoint files and high fidelity viewing of your PDF files
•NEW! Supports password protected Word & Excel 97-2007 files
•NEW! Google Docs support! Download, view & edit your files from your Google Docs account directly in Docs To Go.
•NEW! Desktop Application for bi-directional synchronization with your device's USB cable. Seamlessly move your files from device to computer using our new, & FREE desktop app
The DataViz Advantage
Docs To Go, now in its 11th year, is developed by DataViz, Inc., a producer of quality software for Windows & Mac for over 26 years. In addition to the Android platform, Documents To Go is also currently available for iPhone, Blackberry, Maemo & Symbian S60
More info on Full Version Features…
•Word To Go includes rich formatting features including bold, italics, underline, font color, alignment, bulleted & numbered lists, tables, bookmarks, comments, footnotes, endnotes, track-changes, word count, find & replace, etc.
•Sheet To Go offers powerful data computation with support for 111 functions, cell, number & sheet formatting, row & column preferences, auto-fit options, freeze panes, sort, cut, copy, paste, undo, redo, charting, etc.
•Slideshow To Go allows you to effortlessly "flick" through slides, review notes, rehearse timing & make last minute modifications to presentations when on the go.
•PDF To Go provides high-fidelity viewing of important reference materials with options for page view, word wrap, auto-rotate, bookmarks, search, select & copy text, and more…
•Google Docs Support Download, view & edit your files from your Google Docs account directly in Docs To Go. Any changes you make can be saved and synchronized back to Google Docs so that youll always have the most up-to-date version. You can even create new files in Docs To Go and upload them immediately to your account.
•Desktop Synchronization: Transfer your files from your Windows PC to your Android device over USB. Any edits made in either location will automatically sync and 100% of the original file formatting will be maintained via our Intact Technology.
•Total access with support for attachments, password-protected files, built-in file browser, memory card support, and new Live Folder for recently used documents
•Localized in English, French, Italian, German, Spanish, Portuguese, Brazilian Portuguese, Japanese, traditional and simplified Chinese
Why choose Documents To Go?
•Full featured Documents To Go is not just a viewer, its a complete solution with a full range of viewing AND editing features. Simply unlock premium features by purchasing the Full Version Key from the Android Market.
•First to market Documents To Go is the first mobile Office suite for Android that supports editing of native Microsoft Word, Excel & PowerPoint files!
•Powered by InTact Technology. DataViz acclaimed technology ensures all original file formatting is retained once a file has been edited on an Android device and then forwarded on.
•Send & receive attachments. Documents To Go is tightly integrated with Gmail and other e-mail applications like RoadSync for quick and easy native attachment downloading and sending.
•Native. Open Word and Excel files on your Android phone without any desktop or server conversion needed.
•Nothing new to learn. Documents To Go was designed and developed with the Android device user in mind – everything from the menus to the touchscreen to trackball is supported for a familiar look and feel.
App Specification
App Name:

Documents To Go 2.0 Main App

Rating:

4.21

Apk:

com.dataviz.docstogo

Cost:

Free

Developer:

http://www.dataviz.com/DTGAndroidFAQ

Market:

market://search?q=pname:com.dataviz.docstogo