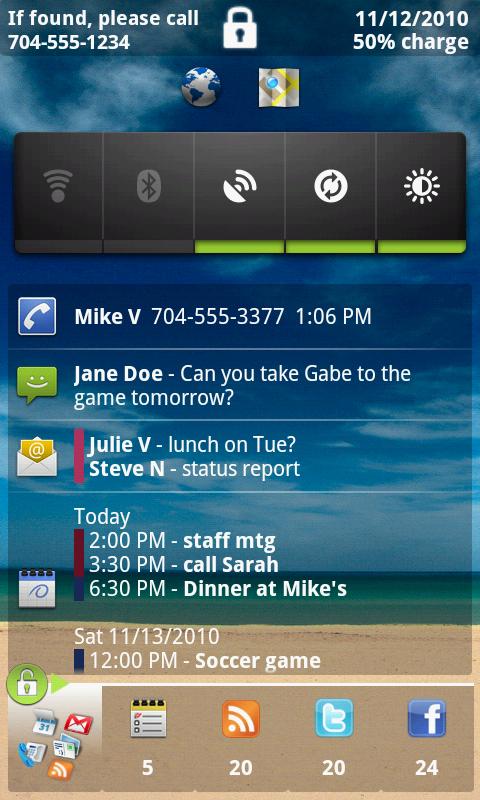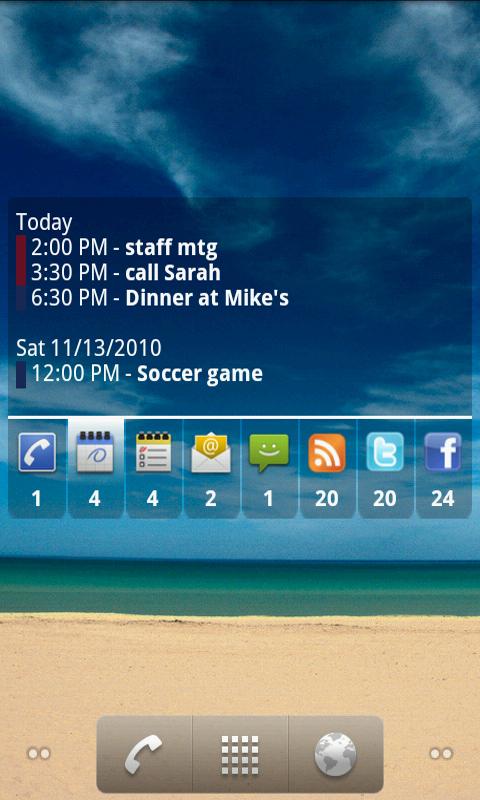 Executive Assistant provides an all-in-one interface for quickly reviewing your:
+ Email: any combination of GMail, Google Apps, or POP/IMAP accounts. Exchange too if you use the K-9 email app.
+ Text messages: both native and Google Voice, including pop-up and reply options
+ Missed calls: return calls directly from the app
+ Calendar events (including Exchange & Facebook if supported by your phone)
+ Tasks: Astrid, Got To Do, GTasks by Dato, or ToDo Task Manager (lite or pro)
+ Google Reader
+ Twitter timeline
+ Facebook news
Use in any of 3 modes:
+ Lock Screen: Use as a lock screen replacement to preview all of your stuff without going thru the hassle of unlocking the phone. You choose which info is safe to show on the lock screen.
+ Welcome Screen: Instant-on immediately after unlocking the phone. Don't pattern lock your phone? Give this mode a try for instant access to all your stuff.
+ Home Screen Widget: 'always on' interface wherever you want it. Use a full-widget that includes a preview area, or a single-row, icons-only widget that simply shows the app icons with counts. Many sizes to choose from. Optionally use a Sense-like or Glass theme for the full-widget.
Full-widgets are scrollable as long as your launcher supports version 2 of the scrollable widgets extension, such as: ADW, Launcher+, Go and Zeam (but not Launcher Pro since it uses version 1).
In every mode: launch apps, return missed calls, dial voicemail (or optionally choose to launch Google Voice, Visual Voicemail or any other voicemail app).
Reply to SMS messages directly from the Welcome Screen or Lock Screen, without unlocking (if you enable this option).
Host your favorite widgets & shortcuts on lock or welcome screen.
NOTE: the background image will be the same as your home screen wallpaper (including live wallpapers). Customize the color and transparency of the text displays in all modes.
App Specification
App Name:

Executive Assistant +

Rating:

4.11

Apk:

com.appventive.ExecAssist

Cost:

US$6.99

Developer:

http://www.appventive.com

Market:

market://search?q=pname:com.appventive.ExecAssist