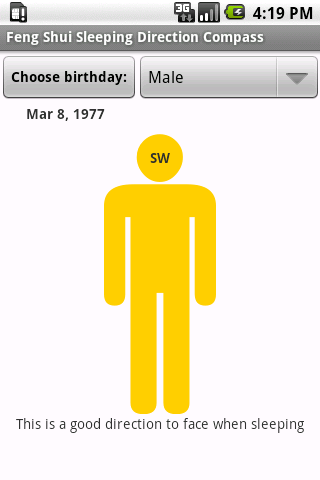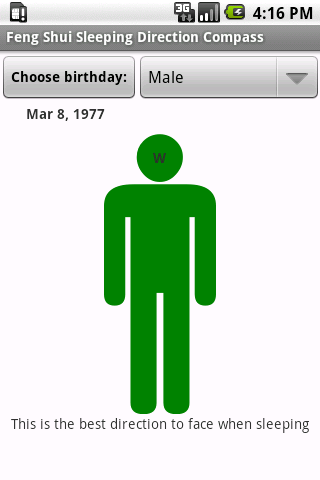 Feng shui (also fung-shay or Fung shui) is an ancient Chinese system of aesthetics believed to use the laws of both Heaven (astronomy) and Earth (geography) to help one improve life by receiving positive qi. The original designation for the discipline is Kan Yu – literally: Tao of heaven and earth. Historically, feng shui was widely used to orient buildings—often spiritually significant structures such as tombs, but also dwellings and other structures in an auspicious manner.
Using this app you can find out in which direction you should be sleeping according to this ancient chinese philosophy.
Enter your birth date and gender and use your phone like a compass to find the best orientation of your bed. Place the phone on a flat surface (i.e. the bed) and rotate it so that the head of the human symbol shown on the screen is in the same direction you sleep.
The best direction to sleep (east, north, shouth-west, etc.) in will be indicated on the screen in green. The yellow directions are also good. Try not to sleep in the directions shown in red.
If your phone does not show the right directions you might have to calibrate its compass by waving the phone several times in a 8-shape figure in the air.
Previous Post: PanoSphere
Next Post: Tennessee University Theme