App Specification
App Name:

Food Fight! Childrens Book

Rating:

4

Apk:

com.jellybiscuits.FoodFight

Cost:

US$2.00

Developer:

http://www.jellybiscuits.com

Market:

market://search?q=pname:com.jellybiscuits.FoodFight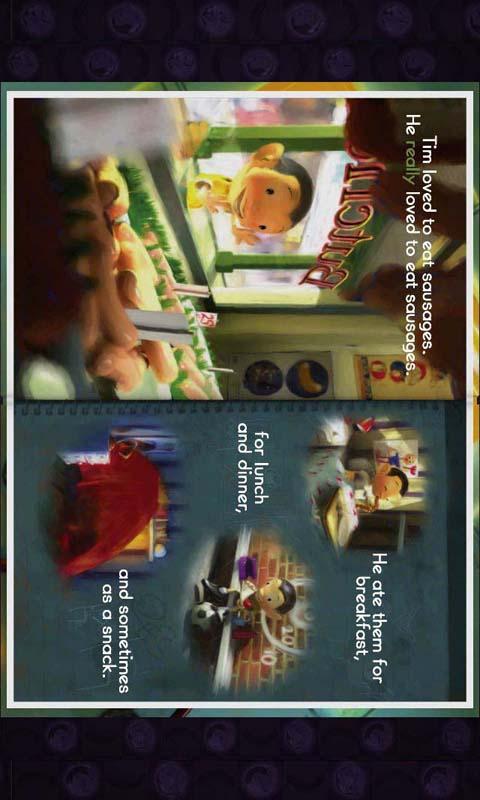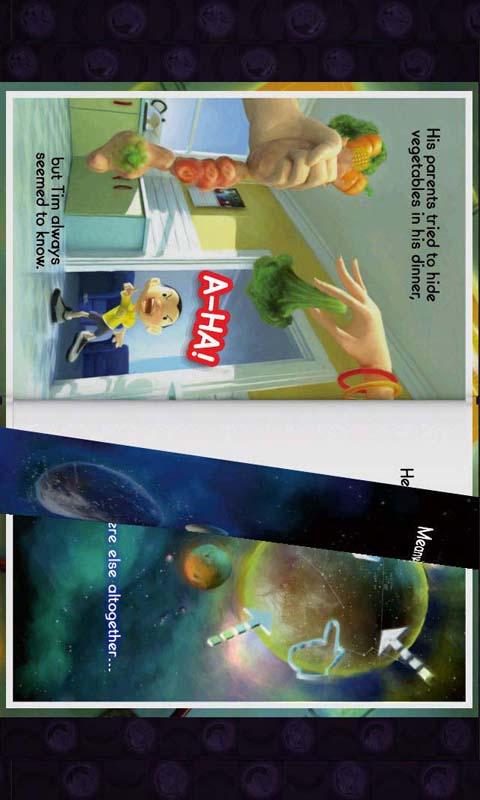 "Great artwork and a twist in the tale will have young readers loving this book." The Herald Sun.
Food fight is a wonderfully bright original story which tells the story of Tim, a boy from earth and Sammy, a sausage from somewhere else altogether. They meet and instantly dislike each other, but are they so different after all?
As they work through their differences, Tim and Sammy deal with issues of one-sidedness, prejudgement, food intolerance and ultimately, conflict resolution all in a light heated, fun story.
Food Fight has been specially remastered for the Android devices by Jelly Biscuits using the original illustrations and text from Glenn Melenhorst's popular children's book, with Glenns input and feedback at every step (and even his voice for the read mode!). The collaboration has created an interactive experience to delight both young and old.
From the author: 'I have received so many wonderful responses to the book that I am thrilled to re-release it to a wider audience and a brand new batch of young readers. I always write foremost to please myself so I hope you get a kick out of reading Food Fight to your youngsters.'
Jellybiscuits strives to bring a new, contemporary voice to the Android and other mobile devices by publishing new works that speak to a new generation of children. The interactivity in Food Fight is designed to enhance to story without getting in the way; to extend the exploration and entertainment of the story without obscuring the charm of the story itself. Weve had fun making Food Fight and are proud to bring you Glenns wonderful book. We hope you enjoy reading and interacting with Food Fight!'
* Studio recorded voice reading by the author of the book, Glenn Melenhorst, with word-by-word highlighting.
* Word by word narration – touch a word to have it read to you.
* Automatic page turn option to have the whole book read to you, or Reads As You Turn.
* Mini map for fast navigation through the book. Easily jump to any page (just tap timmys head), and control Read modes.
* 3D interactive page turns
* Interactive content on every page
* High quality sound and motion.
* Find the 5 hidden stars to unlock a bonus page – the hunt changes every time it is reset!
* Conversion and enhancement of a popular childrens book, with the author and developer working closely to bring the book to life.
* Over 80 interactive elements and sounds
* Book aligns to any orientation
* In portrait orientation the auto-read zooms in on the individual pages as the book is read.
* Bonus silly mode when all 5 stars are found. Hear the author read in a squeaky voice. :)
NOTE: Android 2.2 or better for trouble-free operation
Recent changes:
* Size on device is now less than 200K – down from ~9MB
* Small texture fixes
* Sausages would no longer have names read on touch if reading had been stopped on that page
Previous Post: Lunchbreak Task
Next Post: Textdroid