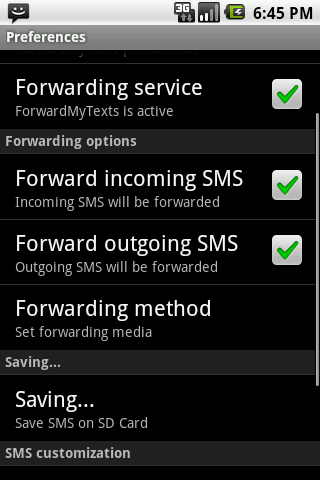 IMPORTANT: READ THE HELP ON MY WEBSITE! Dont hesitate to join me by mail to warm about bugs, questions, or new features !
Forward, monitor all your SMS easily and quietly !
ALL Android Phones are now supported. My software isnt affraid of task killers, reboot automatically if service is shot down.
Useful to get a report on SMS of your children, employees, or your second Android phone.
Clean and easy interface, lightweight application.
In this version, forwarding made by SMS and e-mail, backup on SD Card…
More to come : contacts lookup, phone number filters…
Parameters protected by password, completely stealth application (no icon in Launcher) : parameters only accessible by the person who installed it on the phone !
To configure this application, send a SMS to the phone with this keyword : PREFERENCES (in capital).
Set a password, otherwise the software cannot work.
Before buying this, test this software with the Lite version : contain SMS forwarding by SMS, limited to 100 characters.
Full version of ForwardMyTexts ! The only one to forward all SMS of all Android Phones.
Want only backup on SD Card ? Download Real-time SMS Backup on the Market !
(If you want the APK file to install on another phone, send me a mail with your order number, and I will send you the APK. You can install it on others phones)
Transfert de SMS, forward de SMS, SMS forwarding, SMS forward, forward SMS, transfert SMS, text transfert, text forwarding, forward text, monitor SMS.
App Specification
App Name:

ForwardMyTexts Plus

Rating:

4.83

Apk:

com.netvision.ftextsplus

Cost:

US$3.96

Developer:

http://www.net-vision.fr/android

Market:

market://search?q=pname:com.netvision.ftextsplus