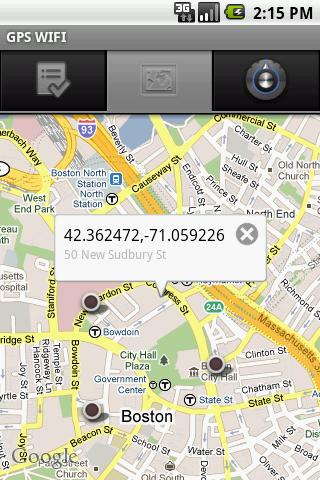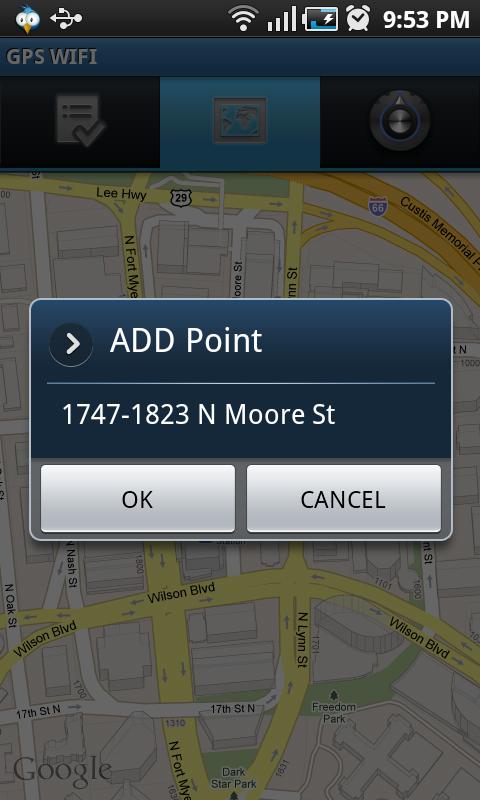 GPS WIFI turns on/off WIFI at your location.
Even GPS is turned off, GPS WIFI will find location with 3G network !!
-features-
* WIFI will automatically be turned on at your locations.
* if WIFI is disconnected , GPS WIFI will turn off WIFI automatically.
* This application will use location of GPS and 3G network both
* You dont have to turn on GPS always !!
1.Once service started, this application will find current location with preference of GPS time, GPS interval time you set.
2.when you are at saved locations, this application will turn on WIFI
3.if you leave from saved locations, WIFI will be disconnected, then this application will detect WIFI disconnected status and turn off WIFI.
feel free to feedback!!
v2011-02-16
* add sleep mode : you can set time when service is not working
* add notification preference : you can set to show notification or not.
* bug fixed..
v2011-01-18
* bug fixed : crash when no location provider found.
v2011-01-16
* You can set power level that this application consumes.
* You can set Accuracy
* You can choose not to use GPS (test needed)
v2011-01-06
*Now you can save current location by tapping current location point on the map after finding current location.
* If WIFI is going error when turning on/off, error message will be notified.
App Specification
App Name:

GPS WIFI

Rating:

3.76

Apk:

com.sailerya.yang.autowifi

Cost:

Free

Developer:

http://goo.gl/735YJ

Market:

market://search?q=pname:com.sailerya.yang.autowifi