HeyWire: Free SMS Worldwide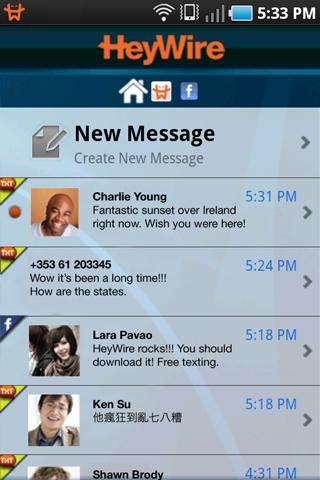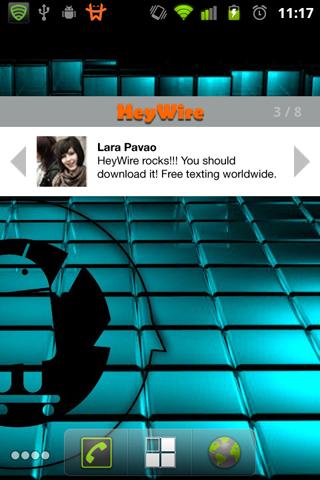 √ Free Texting (SMS) U.S. + Worldwide
√ Cross Platform Messenger
√ Facebook Chat
√ HeyTweets – Twitter via SMS
Four Great Text & Chat Services
'All-In-One' Great App
*Real Texting Phone Number Included!
Go HeyWire on your Android Smartphone or Tablet!
iPhone, iPod Touch and iPad also available! Tell Your Friends!
1. FREE TEXT MESSAGING U.S. & WORLDWIDE
Get a real phone number to text friends on ANY mobile phone
in the U.S. & in 146 Countries! It's Free, Fast, & Reliable!
Coverage Map: www.heywire.com
2. WORLDWIDE CROSS PLATFORM MESSENGER
Messaging is free in EVERY country worldwide if you and your friends use HeyWire on Android Smartphones & Tablets or iPhone, iPod Touch and iPad.
Supports messaging in every language! Tell your friends to join HeyWire!
3. FACEBOOK CHAT
Start a chat conversation with your friends right on your
mobile device with HeyWire!
4. HEYTWEETS – TWITTER VIA SMS
The first and only worldwide Text-to-Twitter Service.
Just text START to 40404
*********************
WHY USE HEYWIRE VS. OTHER MESSENGER OR TEXTING APPS
*********************
ONLY ANDROID MESSAGING APP TO OFFER THESE FEATURES
√ Your own REAL phone number
√ Sending REAL SMS to ANY mobile phone around the world
√ No international texting fees
√ Txt & Facebook Chat with up to 10 contacts at once
√ HeyTweets: Twitter-via-SMS
√ HomeScreen Widget to preview texts, chats, & Tweets
√ Message notifications even if App is not open
√ Cross Platform Messaging – supports any language
√ Compose Messages with Swype Keyboard or voice
√ Emoticons, yup we've got that too!
√ Works on Wifi & 3G
+++++++++++++
THE PRESS LOVES HEYWIRE!
"HeyWire makes it to the "Download Immediately" List.
CNET.com
+++++++++++++
IS IT REALLY FREE?
YES! Texting from a real phone number costs us real money so by placing a small ad within the app, we keep your messages flying around the world for FREE. HeyWire does use data so make sure you have a data plan or use Wifi where available. Your friends not on HeyWire… Standard text messaging rates apply to text a U.S. Phone Number (nothing extra).
HEYWIRE COMMUNITY – LATEST NEWS & UPDATES
Friend us on Facebook: www.facebook.com/goheywire
Follow us on Twitter: www.twitter.com/goheywire
Watch HeyWire Videos: www.youtube.com/goheywire
If you love HeyWire please give us a 5 star rating!
If you want to see any improvements please contact us @ http://help.heywire.com
App Specification
App Name:

HeyWire: Free SMS Worldwide

Rating:

3.59

Apk:

com.mediafriends.chime

Cost:

Free

Developer:

http://www.heywire.com

Market:

market://search?q=pname:com.mediafriends.chime