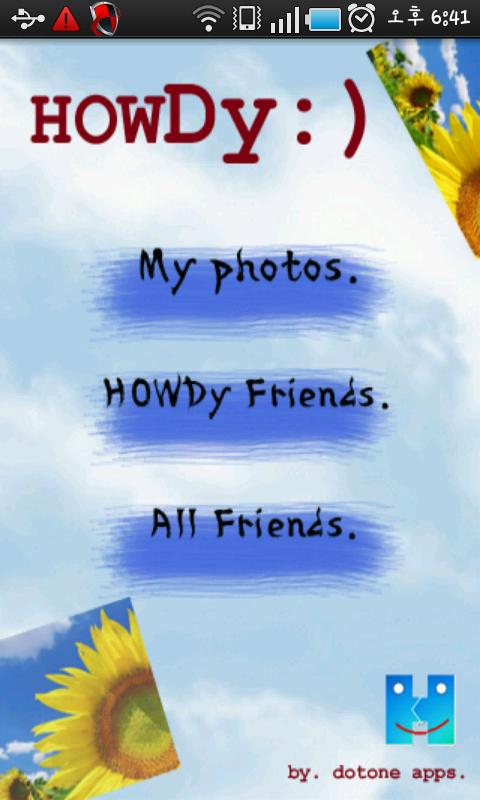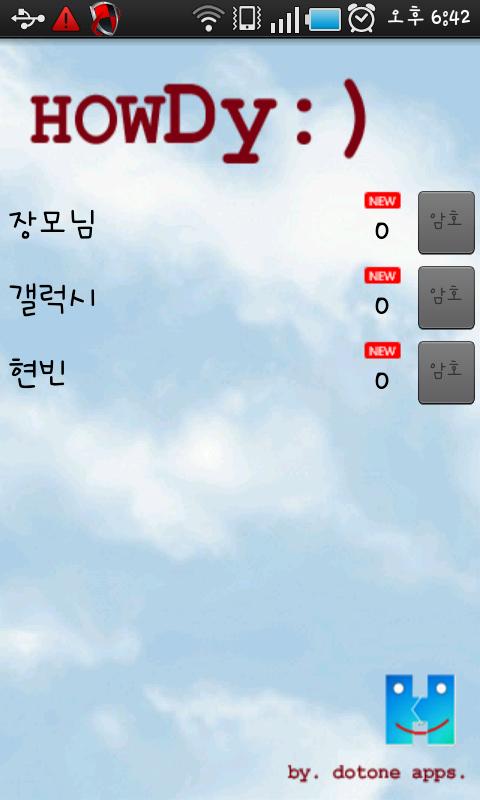 It help you share your photo with your friends absolutely easyly!!
1. Share your picture in your gallery application.
2. choose 'Howdy!' to share your picture.
It's done!!
Too see the picture of your friends?
It's too easy too miss.. and forget.
1. open 'Howdy' Application.
2. choose any person you want to see pictures of.
3. and ENJOY pictures!
to set title of your pictures?
just toggle option on main list.
press option button!
1.0.1
It shows new picture count!
1.0.2
people who has picture places top of list.
1.0.3
boot speed incresed.
1.0.4
UX is totally changed!
two mode (only howdy friends list and all friends list) provided.
You can scroll the pictures to right and left.
1.0.5
Crashes in friends list are cleared.
1.0.6
Crashes in friends list are cleared.
Must uninstall the old version first!!
1.0.8
When you don't scroll more than 3 secs, it start auto-scrolling.
1.1.1
Bug fix. ( exact count for the users.. )
App Specification
App Name:

HOWDy! Photo Share

Rating:

3.24

Apk:

com.dotone.howdy

Cost:

Free

Developer:

http://dotoneapps.blogspot.com/

Market:

market://search?q=pname:com.dotone.howdy