App Specification
App Name:

Hyper Grid Lite

Rating:

2.88

Apk:

com.hyperbyte.game3

Cost:

Free

Developer:

http://hyperbytestudios.blogspot.com/

Market:

market://search?q=pname:com.hyperbyte.game3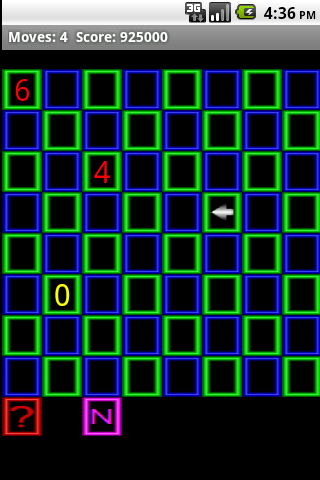 * Full version is now available on the marketplace!!!!! *
Imagine the most addictive puzzle game ever made… One that combines infinite game play, endless fun, logical problem solving, beautiful art, and funky tunes and sounds… Meet Hyper Grid (lite), this game is can be somewhat described as a combination of sudoku and minesweeper mixed with dangerous amounts of AWSOME!!! This game was built from the ground up to be as fun and addicting as possible!!!
Heres how to play:
Objective: The object of the game is to find the tile with the golden X in it using deductive logic in as few moves as possible in as short of a time as possible.
Types of Tiles:
Arrows reveal which direction the X is in.
A yellow number reveals the closest distance (either vertical or horizontal) that the X is from that tile.
A red number reveals the furthest distance (either vertical or horizontal) that the X is from the tile.\n A G means that the X is in a green tile\n A B means that the X is in a blue tile\n An exclamation mark ( ! ) is a bonus space that gives you a free move and bonus points!
A question mark ( ? ) is an empty space.\n\nButtons (at the bottom of the screen):\n\n (?) opens this help section\n (N): starts a new game\n The smiley face (full version only): changes difficulty (happier = easier, sadder = harder)
* when exiting game: pressing home button saves game state, pressing back button doesnt save
PLEASE NOTE: This is just the first release of the lite version of this game. Please report any errors that you find and leave feedback about what you do and dont like about it. The FULL version will be released sometime soon!
Thanks for playing!
ENJOY!
Previous Post: Spectral Souls ENG
Next Post: Nova Wars