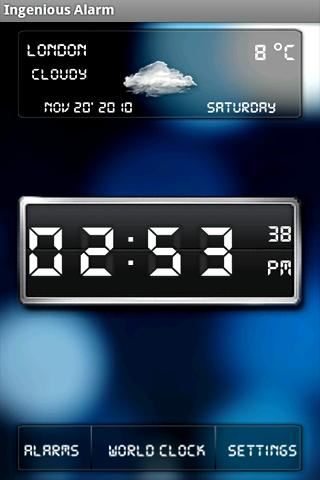 Ingenious Alarm is a beautiful bedside alarm clock that reads out the time, temperature and number of missed calls and messages you have, in the morning. You can also customize the clock completely, make your own themes on our website and download and rate them from your app.
Ever wanted someone to tell you the time when you get woken up, ever wanted to know if you've missed a call or message while getting those precious hours of sleep, well now you can, it's like having your own butler!
> Voice notifications let you know the important stuff when you wake up. The voice notifications can be set as the alarm, but also to play on snooze or dismiss.
> Another unique feature of Ingenious Alarm is the ability to create and completely customise the theme of the clock. You can choose between both analog and digital clocks and skins can be made and uploaded through our website www.ingenious-apps.com and then downloaded and rated through the app.
Ingenious Alarm has a wealth of other features too:
> Alarm sound options – Choose between a range of options for your alarm sound, including voice notifications, music from your SD card, a random song option and the ability to record your own sound and use it!
> Puzzles to stop the alarm – Are you a snooze button lover? Well the puzzle feature will make sure you're awake. Choose between either solving math questions or wake up to a morning Sudoku puzzle. Get 5 math questions right in a row and the alarm switches off or for the Sudoku whizz try and solve the aided Sudoku puzzle to stop that alarm already!
> Weather Display – The clock displays real time local weather along with smart icons that show the current forecast
> Fade in gently – Allow the alarm to slowly fade in and wake you gently instead of with a start!
> Repeat – Repeat the alarm any day of the week
> Shake – Shake the phone to either snooze or dismiss the alarm
> Vibrate Option – Ensures you know the alarm is going off. Turn it into a silent alarm by turning the volume off and using the vibrate feature
> Quick alarm – Set an alarm quickly from the main clock screen if you want a short nap
> Unlimited alarms
Trial Version now available
App Specification
App Name:

Ingenious Alarm

Rating:

3.64

Apk:

com.ingenious_apps.IngeniousAlarm

Cost:

US$2.88

Developer:

http://ingenious-apps.com

Market:

market://search?q=pname:com.ingenious_apps.IngeniousAlarm