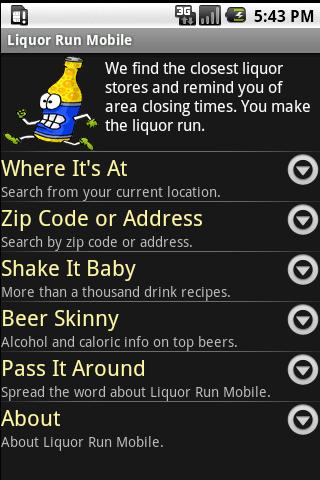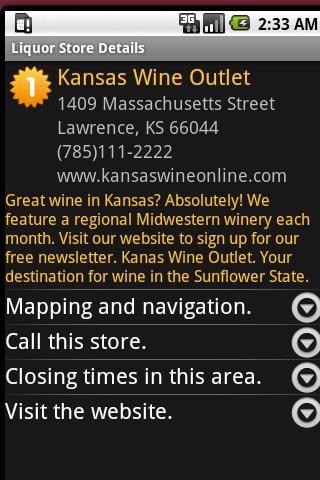 We find the closest beer, liquor, & wine stores and remind you of area closing times. You make the Liquor Run!
Americas #1 alcohol shopping app.
Get turn-by-turn directions to over 31,000 US liquor stores, browse thousands of drink recipes, check how many calories are in hundreds of beers.
Best of all, never miss last call again!
Liquor Run Mobile is the only alcohol-related app you need and its completely free! We have over one thousand mixed drink recipes. You can also research hundreds of beers. Once you know what you want, use our liquor store search technology to find the closest great liquor store.
1. Shake It Baby
Browse our Top 10 List, by type, or browse all recipes. Save your favorites to your favs list. We have great new search and rating capabilities coming in 2011.
2. Beer Skinny
Sort hundreds of beers by calories or alcoholic strength. It might not make you skinny, but youll know more about beer!
3. Search.
Search using your GPS, by zip code, address, or choose from a list of your recent searches. Results are displayed in a proximity ordered list (all stores within 10 miles are shown). You can press menu to show results on a map.
4. Research stores.
Find out where your favorite new liquor store is. Call directly from the app, find out what times stores in the area must close, look up an address, or request turn by turn directions from your current location to the store. Certain stores also have extended descriptions and special offers good for Liquor Run Mobile users. We have lots of great new store features coming in 2011 so please check back often. If you find a store is missing, press the menu button and tell us about the store. Well add it to the database soon.
5. Pass It Around. Liquor Run Mobile is completely free to use. If you love our app, please use Pass It Around to tell your friends about Liquor Run Mobile.
Thanks for making Liquor Run Mobile Americas #1 Shopping app for alcohol, spirits, wine, and beer. Keep checking back for updates!
App Specification
App Name:

Liquor Run Mobile

Rating:

4.28

Apk:

com.kansassoftware.liquorrun

Cost:

Free

Developer:

http://www.liquorrunmobile.com

Market:

market://search?q=pname:com.kansassoftware.liquorrun