App Specification
App Name:

Mediafly Video+Audio Podcasts

Rating:

3.53

Apk:

com.mediafly.android.video

Cost:

Free

Developer:

http://www.mediafly.com

Market:

market://search?q=pname:com.mediafly.android.video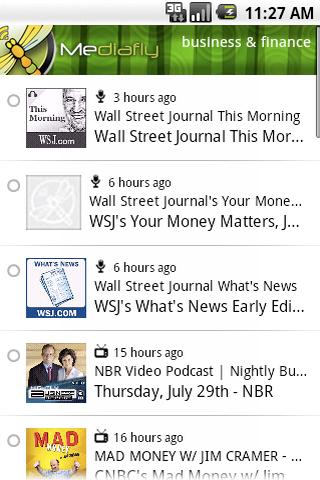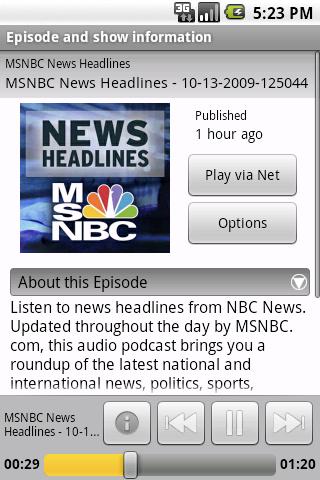 Mediafly Mobile is your way to play, organize and discover podcasts, audio, video, radio & streams from your Android phone.
Powered by the Mediafly(R) CloudMediaOS(TM), this app delivers on-demand personalized channels of your favorite shows enabling you to watch/listen to what you want, when you want it.
Enjoy popular channels such as news, sports, business, technology, science, celebrity gossip, comedy, video games & much more. Or create your own channels. Select from over 20,000 shows – everything from your favorite network news program to award-winning original web programs.
FEATURE HIGHLIGHTS
+ Play audio and video shows on-demand
+ Play audio and video shows via cell or WiFi, or download and play offline
+ Continuous Play channels that let you just tune in and relax.
+ Organize your shows into easy channels, such as News, Business, Sports, Technology, etc. Fresh updates from your shows will automatically be delivered for you to enjoy!
+ Manage all of your shows and channels from the Android app or from Mediafly.com
+ Link your app to a Mediafly account and get the same channels on your Android and at home or office on your other Mediafly enabled devices (iPhone, iPod Touch, iPad, Roku, Western Digital, Google TV, and more).
+ Search and browse over 20,000 audio and video shows from major networks and independent creators. Play an episode or two or add them to your channels for easy access in the future
+ Link multiple accounts to one device.
+ Access all new episodes via the New channel
+ Browse current and past episodes from any show with the swipe of your finger
+ Background audio playback
+ Full multitasking support
+ Jump forward 30s / back 10s buttons
+ Support for headphone controls
+ Email sharing
GET STARTED:
Start with the default popular channels.
Next, personalize the channels: link your Android device to any Mediafly account and choose exactly which channels and shows you want. This also enables you to enjoy the same channels on other Mediafly enabled devices and the Mediafly.com website.
—-
This application is powered by the Mediafly(R) CloudMediaOS(TM) Platform. Learn more @ www.ONmediafly.com
—-
Previous Post: HelloKitty IV
Next Post: Birthday Assistant