App Specification
App Name:

Miners Mobile

Rating:

3

Apk:

com.frustaci.miners

Cost:

US$1.00

Developer:

http://frustaci.sites.uol.com.br/miners.html

Market:

market://search?q=pname:com.frustaci.miners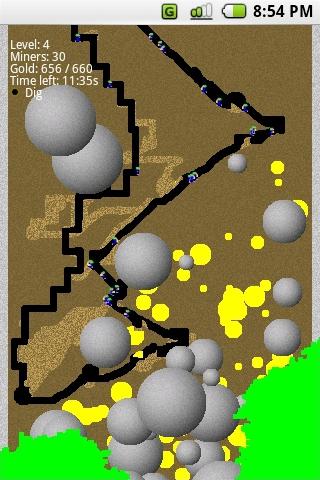 ** Negative comments are unfair atm** If you like it, please rate it, or state a proper reason. Thanks!
The goal is to dig tunnels that lead the miner lemmings to the gold and then back to the surface.
This is a drawingpuzzle game featuring 4 custom levels and 8 levels procedurally generated for infinite amount of fun.
Requires touchscreen enabled phone.
Promotional price, please rate/comment.
Recent Features:
Preference Screen.
Drawing Zoom Feature.
Use the preference screen to tweak drawing as you like.
Planned Features:
Level Loading Custom Levels.
Improved graphics and gameplay!
The miners are simple creatures:
. Miners will walk straight forward until they hit a wall or get bored.
. When a miner hits gold, he will pick up a chunk of the gold, but only if he isnt already carrying some gold.
. If a miner carrying gold enters either starting platform, he will drop the gold there.
. When a miner faces a steep cliff in front of him, theres a 66% chance he will try to jump over it.
. After a miner has hit a wall and changed direction, theres a 66% he will jump back in the direction he came from.
. A miner that falls more than 100 pixels or hit slime will die.
. Quicksand will get miners stuck for couple of seconds until they can free themselves up and they will loose their gold.
Previous Post: Bird Race beta
Next Post: Janes City :