App Specification
App Name:

Mission at waking up

Rating:

3.45

Apk:

jp.co.hikesiya.mezamashi

Cost:

Free

Developer:

http://www.hikesiya.co.jp/android/index.html

Market:

market://search?q=pname:jp.co.hikesiya.mezamashi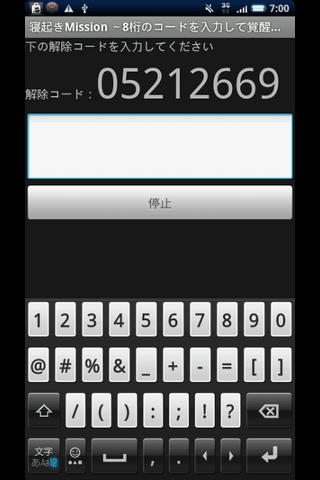 English/Japanese, tested on Xperia(X10) OS:Android2.1/LYNX(SH-10B) OS:Android1.6/GALAXY S OS:Android2.2/HTC Desire HD(001HT) OS:Android2.2/IS03 OS:Android2.1
Input the code of eight digits, and wake up!
This apllication is suitable for you request satisfactory awaking.
Let's keen your head, and stop the music!
Process:
1) Set the timer of this application.
2) The loud sound begins to ring when it became wake up time.
Let's input the code of eight digits within 12 seconds, and touch the stop buttom.
3) To stop it splendidly, you will be awaken with the sense of accomplishment.
Activate your brain of awake setting up.
Now, input the code without panicking.
* Be sure never to throw your Android Phone!
Mission at waking up uses INTERNET/ACCESS_NETWORK_STATE permission to show ads.
Previous Post: EU Countries Cities
Next Post: FilesCrypter