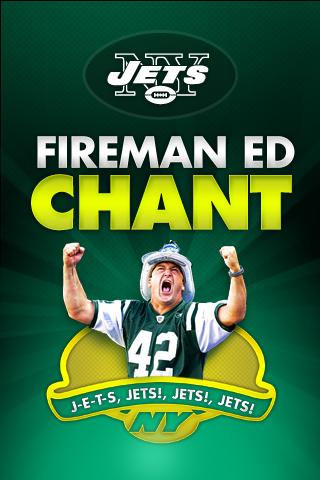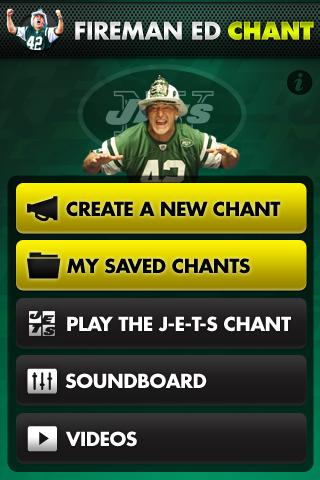 J-E-T-S JETS! JETS! JETS! Support the New York Jets in 2011 Playoffs with the OFFICIAL Fireman Ed Jets Chant App. This app allows you to create and share your very own custom Jets Chant. You control Ed, you control the audio, and you control the ending. Send to your friends and rival fans, or share your chant on popular social networks for the whole world to see!
★ Help create a buzz around next week's AFC Conference Championship game by downloading the app and sending custom Jets/Steelers chants to your friends! ★
———————-
App Features
———————-
✔ Enter a custom (12 character) chant
✔ Record a custom audio chant
✔ Select from many video endings
✔ Share with Friends via E-Mail, Facebook and Twitter
✔ Explore the Soundboard featuring 50 clips
✔ Explore the Videos featuring 18 clips
✔ Play the legendary JETS chant
✔ Hidden Easter Eggs, find them all!
✔ Designed for retina display
✔ Fully supported on both iPhone 4 and 3G(S)
✔ Available on iPhone, iPad and Android!
Find out more about the app at FiremanEdApp.com
————————————–
What People Are Saying
————————————–
My new favorite app! The Ed videos and sound board are hysterical – must-have for Jets fans! – MarkSandwich
Hilarious and fun. Like having Fireman Ed on call to fire you up. Sent personalized jets chants to all my patriots friends to start the trash talking a little early for playoffs! – JetsFan2011
Thats why the iPad was invented! The only app youll ever need. – amforman
————————————-
Suggestions & Feedback
————————————-
Wed love to hear from you. We welcome your suggestions, feedback and comments. E-Mail us at: support@jetsapp.com
Also visit www.firemanedapp.com/faq-support for Frequently Asked Questions and Support.
★ Fireman Ed Chant App was created by Omnigon Communications, LLC on behalf of The New York Jets. ★
App Specification
App Name:

NY Jets Fireman Ed App

Rating:

3.35

Apk:

com.omnigon.jets.firemaned

Cost:

US$1.99

Developer:

http://www.newyorkjets.com

Market:

market://search?q=pname:com.omnigon.jets.firemaned