App Specification
App Name:

Open Signal Maps beta

Rating:

4.07

Apk:

com.staircase3.opensignal

Cost:

Free

Developer:

http://www.opensignalmaps.com

Market:

market://search?q=pname:com.staircase3.opensignal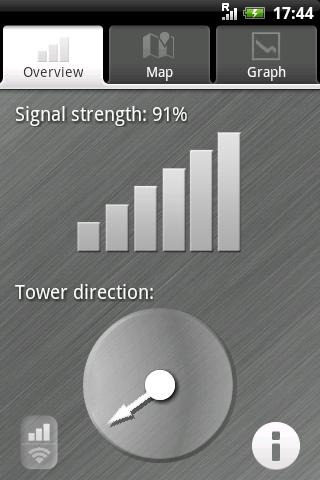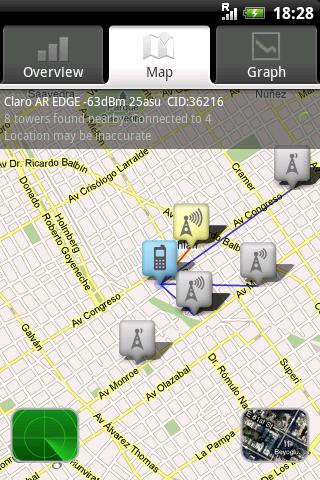 The ultimate toolkit for improving cellular and wifi signal
- Signal direction
- Signal graph
- Map and radar views of cell towers & wifi routers
- Field test mode style stats
The simplest tactic to improve your reception is to walk in the direction of your signal. Not foolproof, but worth a shot!
Option to contribute to the Open Signal Maps project: TRUE coverage maps of cell phone networks & wifi data points freely available to all.
Problems? Email us!
Tips:
-Click the wifi-cells toggle button on the bottom left to see wifi routers
-Use wifi and GPS for best speed and accuracy
-Verizon & Sprint users will see only one connected tower at a time
-Not all towers and wireless routers are in our database. Sorry!
-Moving in the direction of your cell tower will not always improve reception due to interference effects and local geography.
- Data is mainly crowd sourced – wireless and antenna locations are calculated by triangulation. This means they are not exact, and sometimes they may we way off. As more people use this app the data will improve.
- Click on the i on the overview screen to see more signal stats – including signal RSSI in ASU and dBm
Advanced notes:
- For GSM cell tower are identified via cell id and location area code (CID and LAC)
- For CDMA cell towers are identified via Network ID, Base sub-station ID and system ID (NID, BSSID and SID)
Were building trustworthy and comprehensive coverage maps for GSM, CDMA; for 2G, 3G & 4G. We think this is the best signal tool you can find, let us know if you think anything is missing.
Networks were mapping: Orange, Vodafone, O2, 3, AT&T, Sprint, Verizon, Movistar, Claro. And over a hundred others.
Previous Post: Slideshow Widget
Next Post: ADW Theme Binary Blue