App Specification
App Name:

Pesoguin Clock

Rating:

3.95

Apk:

biz.artsplanet.android.pesodigitalclock

Cost:

US$1.19

Developer:

http://artsplanet.biz/

Market:

market://search?q=pname:biz.artsplanet.android.pesodigitalclock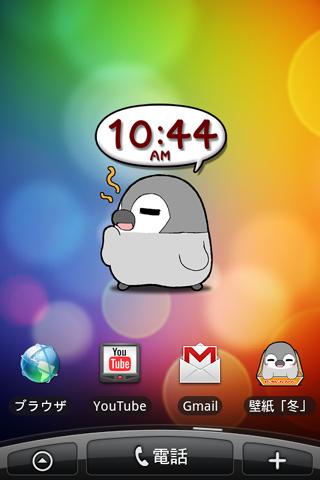 This is a clock widget of "Pesoguin", a popular character in Japan. Pesoguin on the home screen tells you time in 12-hour format or 24-hour format. A tap tickles him and double taps changes his expressions. On the hour every hour he acts in a certain way. In a full version 3 options for the Pesoguin Clock Widget are available.
This application is a widget for a home screen. Keep pressing the home screen till an additional menu of widgets appears. Pick out "Pesoguine Clock" from a list of widgets.
※Pesoguin is an imaginary animal similar to an emperor penguin's baby.
He will relax your mind. He has a cute girlfriend, "Pesoko". They appear in a Japanese four-frame comic strip book. Pesoguin Clock is one of the most popular Yahoo! widgets and Google gadgets. In Yahoo! Japan widget it is as popular as Doraemon, Evangelion, Gundam, Pikachu(Pokemon), Lilo and Stitch, Mickey Mouse, fortune, Winnie the Pooh, Tamagotchi, Terminator and Reversi. In Japan stuffed Pesoguins have been produced and widgets and wall paper of adorable fashion models with them are available in Japan.
Previous Post: PingChat
Next Post: California Rock