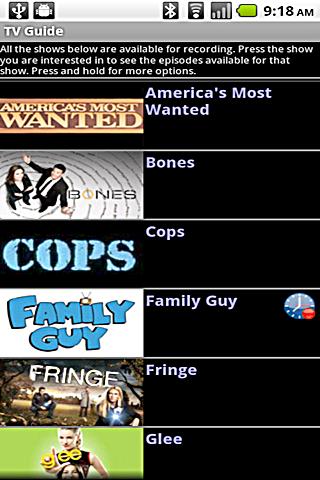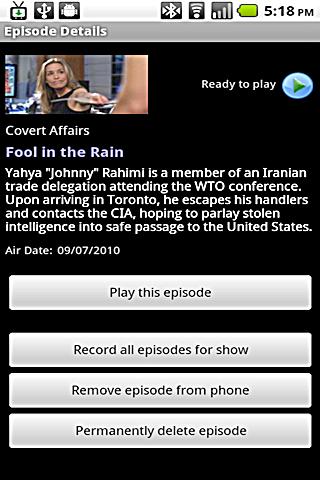 Watch TV on your phone in full HD-480p resolution with DroidTV. Choose from hundreds of episodes of the most popular shows from the major TV networks. Watch whenever you want, wherever you want. It's TV the way you want it. It's DroidTV.
DroidTV turns your phone into a DVR and video player. Record and watch your favorite TV shows right on your phone. Episodes are played from your phone's Secure Digital memory card, not streamed, so they are available anytime, even when you don't have Internet access. Episodes start playing immediately, without buffering delays or reduced quality.
With DroidTV, you can record and watch individual episodes or automatically record every episode for a show as they become available. Episodes are recorded from the Internet, stored on your own dedicated virtual DVR in our data center, and then transferred to your phone for viewing.
You can store any number of episodes on the virtual DVR. The number of episodes on your phone is limited only by available memory on your SD card.
This free version of DroidTV gives you access to hundreds of episodes from over 50 popular network shows. For less than a dollar a month you can also optionally add over 15 of the best prime-time TV shows (search for Subscription for DroidTV Primetime in the Android Market).
DroidTV supports all Android phones and tablets with a screen resolution of at least 480×800, a 1GHz processor, Android OS v2.1 and later, and a Secure Digital (SD) memory card with at least 2GB of free space.
App Specification
App Name:

PHDVR Beta

Rating:

2.91

Apk:

com.PersonalDVR

Cost:

Free

Developer:

http://myDroidTV.com

Market:

market://search?q=pname:com.PersonalDVR