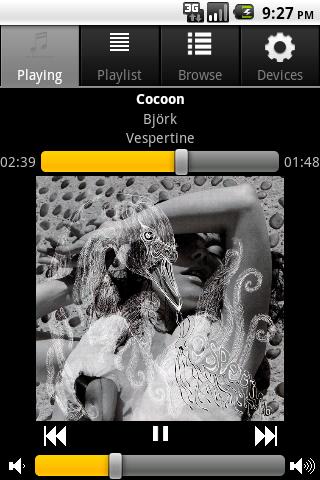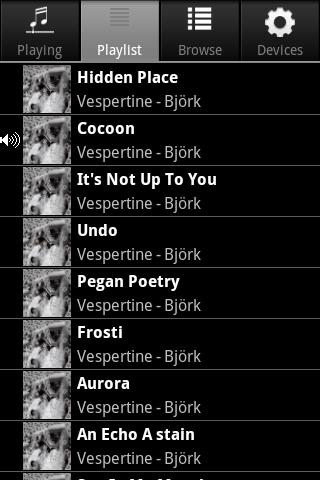 Finally, a simple way to use your existing UPnP™/DLNA® software and devices from your Android phone. Introducing PlugPlayer, an application to stream from UPnP™/DLNA® media servers or control UPnP™/DLNA® media renderers – all from the palm of your hand.
– Stream Music*, Video*, or Images* from a Media Server* to your Android phone
Already have a media server running on your home computer or server? With PlugPlayer you can access music, videos, and images from your media server and listen to it on your Android phone. You can use the built-in player, or choose your favorite external application.
– Control PlugPlayer from another Android phone or UPnP™/DLNA® control point
Like listening to your Android phone while it is docked to speakers, but hate having to physically walk over to change the playlist or volume? With PlugPlayer, you can use your Android Phone to remotely control another copy of PlugPlayer.
– Control a Media Renderer* from your Android phone
Already have a media renderer hooked up to your stereo? No need to fumble around looking for the right remote. With PlugPlayer you can control your media renderer using your Android phone, creating a playlist from media on your media server.
– No Additional Software or Configuration Required
Other solutions require proprietary software on your home computer, but PlugPlayer uses the media server you already have. Plus, PlugPlayer automatically discovers devices on your network without the need for manual configuration or settings.
– Advanced Features
Of course, should your device not be discoverable due to your network circumstances, there is also a way to manually add a device. With PlugPlayers advanced device configuration, you can stream music and video from remote servers.
* Please see plugplayer.com for supported file formats and devices known to work with PlugPlayer
App Specification
App Name:

PlugPlayer

Rating:

3.07

Apk:

com.plugplayer.plugplayer

Cost:

US$4.99

Developer:

http://plugplayer.com

Market:

market://search?q=pname:com.plugplayer.plugplayer