App Specification
App Name:

PrediSat Pro

Rating:

4.17

Apk:

com.pilot51.predisatpro

Cost:

US$1.00

Developer:

http://pilot51.com

Market:

market://search?q=pname:com.pilot51.predisatpro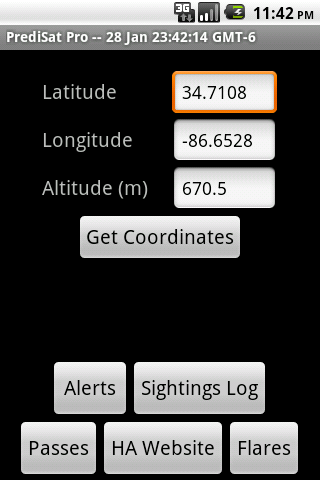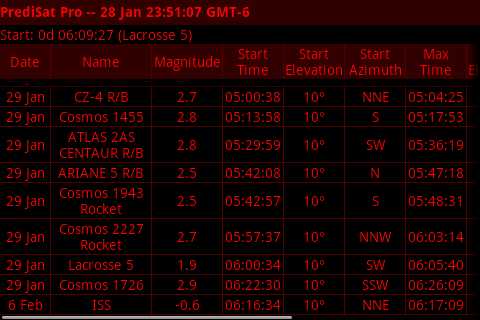 PrediSat grabs Iridium flare and satellite pass data from Heavens-Above.com and conveniently formats it on your phone. It also includes a few features to help you spot satellites, such as alerts, countdown, and night mode.
PrediSat Pro includes the same features as PrediSat (minus ads) and more.
For your satisfaction, please try the ad-supported PrediSat before purchasing. Chances are if you dont like it, you probably wont like Pro either.
Pro-only features:
-Allows multiple alerts per event
-Text-To-Speech alerts
-Semi-automatic alert creation
-Sightings log
-Export sightings as CSV files
-No ads
Permissions:
Internet – Fetch satellite data or browse Heavens-Above site.
Location – Used on Heavens-Above to find predictions for your sky.
Modify SD card – Export sightings.
View Network State – Check connectivity before trying to download data.
Vibrate – Notifications.
Additional keywords: iss space station shuttle transit orbit
Previous Post: PhoneFace Pro Photo Speed-dial
Next Post: Tai-Chi Quan: 42 Movements Pt2