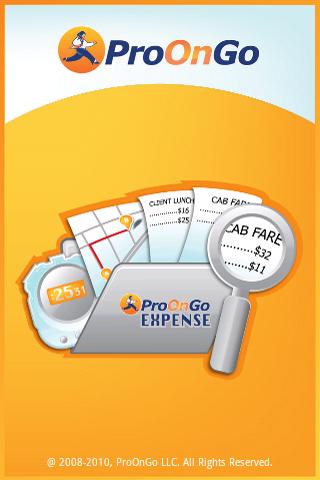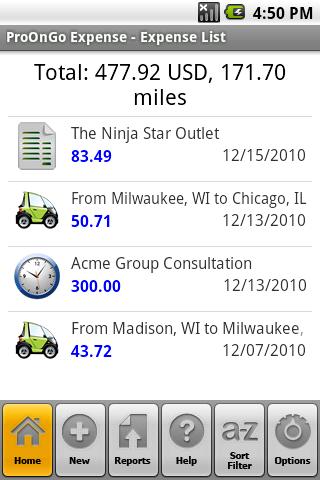 Receipt Reading and Storage, GPS & Odometer Mileage Tracking, Credit Card Sync, Time Logs and more! ProOnGo Expense is an expense tracker that allows you to create expense reports without typing.
Features:
-Receipt Expense Capture, Reading and Storage
-Credit Card Integration
-Export Directly to Your Companys Expense Template
-Export to XLSX, QuickBooks Pro, CSV, XML,
-Mileage Tracking by City Name, GPS and Odometer
-Connect Mileage Expenses together (ex: Chicago to Detroit to Cleveland to New York)
-Billable Time Tracking/Time Log
-Employee-Manager Expense Workflow
-Web Portal Expense Management
-Expense Backup
Custom Expense Templates:
Do you have a company expense template you need to fill out? Sync up your expense template to our expense tracker and your expenses will automatically fill in to your report. No more typing! Custom CSV and XML reports for Acct/Payroll Sys. import available upon request.
Business Expense Workflow:
View your employees business expenses, then approve or deny the expenditures to create your departments expense report.
Receipt Expense Capture, Reading and Storage:
Turn your phone into a receipt scanner! Take a picture of a receipt to create an expense. The Receipt Reader then scans the receipt and extracts the merchant name, date and total amount to create a new expense.
Already recorded your expense? Attach your receipt image to the expense, and the receipt image will show up in your expense report.
Mileage Tracking:
Have to keep a mileage log? A number of different ways to track mileage expenses:
-Enter the names of the cities and ProOnGo Expense will act as a mileage calculator to automatically calculate the distance between the two
OR
-Use your devices GPS to locate your starting and ending addresses to calculate your mileage expense
OR
-Just enter in your odometer readings and the subtraction is done for you to create a new mileage expense.
Credit Card Sync:
Sync up your credit card so every transaction is imported as an expense. Then simply label your transactions as business or personal transactions, attach a client or project name, then easily create your report. Currently only AmEx cards supported, but more coming soon.
QuickBooks Pro Export:
Your expense manager works with QuickBooks Pro. When you have finished tracking you and your employees expenses, export the report as a .IIF for easy import into QuickBooks Pro.
Time Tracking:
Create client lists and easily expense the time you spend with them. Then at the end of each week, create your time log or billable hour expense report.
Web Portal:
After you create your expense report for the week or month, clear out your expenses and never fear that you have lost an expense. Access them all through ProOnGo.com. You can view all of your old expenditures, add and edit expenses, as well as create expense reports.
Expense Backup
Never lose any of your expenses! As soon as you record an expense, a backup copy is made on the ProOnGo server, accessible via the ProOnGo Web Portal. So after you create your expense report for the week, clear your expenses, and dont worry about losing them.
If you get a new phone, easily restore all of your past expenses to the new device.
Updated often so please check back!
ProOnGo Expenses goal is to completely eliminate manual entry from expense tracking. Thats why, for our expense tracker we offer the Receipt Reader, Credit Card syncing, GPS Mileage Tracking, and Custom Expense Report integration for expense management so you can save tons of time.
Are you a Trucker? Use ProOnGo Expense as a GPS Mileage Calculator and attach receipts to your expenses for greater IRS Mileage audit.
Full featured expense tracker requires subscription fee. 30 Day Free Trial – Not billed for 30 days. Group Rate for Business Packages. See ProOnGo.com for more details.
Have a question or suggestion? EMAIL US!! Support@ProOnGo.com
App Specification
App Name:

ProOnGo Expense

Rating:

3.17

Apk:

com.proongo.expense

Cost:

Free

Developer:

http://www.proongo.com

Market:

market://search?q=pname:com.proongo.expense