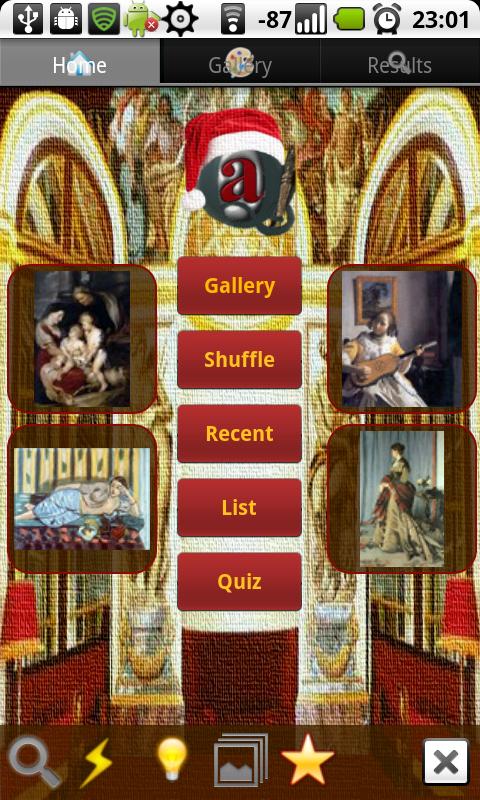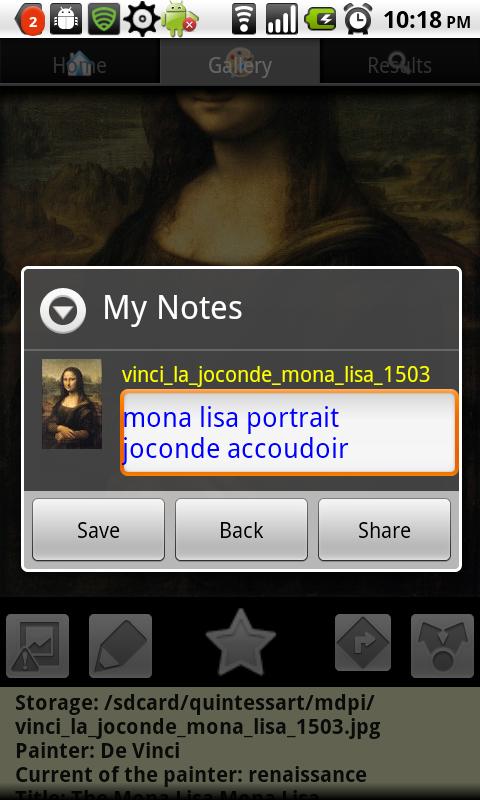 QuintessArt is a Museum, an Art Gallery from greatest masters of history…in your hand !
Main features (Version 2.5.0):
-more than 3200 materials available:26 painters/8 currents
-Galleries with paintings from painters/currents/museums/cities/countries
-zoom multi-touch to see details
-Search+refine with multiple queries (OR/AND operators: "wom+hat p.verme")
-Instant Search to see as you type
-Suggestions to discover new related paintings
-Shuffle mode to randomize your experience
-"Shake mode" in galleries (see menu/settings)
-Slideshow with several effects
-Games: Quiz & "Find Intruder"
-manage bookmarks/notes/tags
-share paintings/bookmarks/notes with multiple attachment via mail/facebook/twitter+twitpic,seesmic,tweetcaster/picasa/pixelpipe…
-Top Bookmarks/Downloaded
-Art Events
-offline contents… :-)
-…etc
QuintessArt presents galleries of painters/currents/museums/cities/countries with the associated paintings,zoom multi-touch to see details,all informations/descriptions available (offline),nice slideshow with fullscreen & several effects for particular gallery or whole paintings available.
QuintessArt ables the discovering of masterpieces with intuitive search (multiple queries+refining options via currents and painters),Instant Search (see paintings as you type),smart suggestions, several quiz to learn more,shuffle+"shake your phone" mode to randomize your experience/discoverings.
QuintessArt ables you to manage notes,annotations,tags and bookmarks for paintings/galleries & share all of them with their associated description/notes/tags via mail/twitter+twitpic/facebook/picasa/messaging/pixelpipe…with multiple attachments & ables you to put any masterpiece as nice wallpaper.
QuintessArt is an Edutainment application which invites you to discover or rediscover currents,painters,museums (Louvre,Orsay,Borghese,Pompidou,Ermitage,Metropolitan ,pouchkine…): QuintessArt covers greatest currents impressionism,realism,symbolism,romanticism,mannerism,renaissance,baroque,fauvism… with greatest artists like Claude Monet,Edouard Manet,Gustave Courbet,Leonard de Vinci,Vincent Van Gogh,Paul Gauguin,Gustave Klimt,Camille Corot,Johannes Vermeer,Paul Cezanne,Edgar Degas,Eugene Delacroix,Francisco Goya,Diego Velasquez,Rembrandt,Sandro Boticelli,Eugene Boudin,Brueghel,Gustave Caillebotte,Caravaggio,Camille Pissarro,Rubens,Tintoret,Auguste Renoir…and more coming soon, with only one application & in your hand ;-) !
The current version provides more than 3200 materials (currents,painters+thumbnails to preview) in your hand and more than 500Mo in size of knowledge data that you can manage & download as you want and when you want (one by one or part of them or all of them: see menu/data in main page/gallery tab/quiz tab/slideshow).
The database is updated via OTA (Over The Air), directly from QuintessArt with new painters/currents/museums …
For evident copyright reasons,masterpieces from Salvador Dali,Pablo Picasso,Joan Miro,George Braque, René Magritte …etc are not available in QuintessArt for the moment.
Recent review from XDA-Developers: "If you are an art major or are simply attracted to the beautiful and solemn art masterpieces that marked periods in humanity, you must definitely try out QuintessArt by XDA member masterdevx. This app will turn your Android device into a virtual art gallery where you will find paintings by the greatest artists in history"
Recent Review from droiddoes.net :"Art lovers, rejoice! Quintess is your personal art gallery filled with the most popular artists from around the world […]. You can watch slideshows, download artwork, look up museum information or test your knowledge with an interactive quiz. It's fun, entertaining, and you'll feel classier just for having it on your phone…"
All information/screenshots/Tips/help & guide are available at:
our blog: http://quintessart.blogspot.com
Follow us on Twitter: @quintessart
Enjoy with QuintessArt
App Specification
App Name:

QuintessArt

Rating:

4.5

Apk:

com.masterdevx.quintessart

Cost:

US$1.35

Developer:

http://quintessart.blogspot.com/

Market:

market://search?q=pname:com.masterdevx.quintessart