App Specification
App Name:

RF Signal Tracker Eclair

Rating:

3.29

Apk:

com.hotrod.utility.rfsignaltrackereclair

Cost:

Free

Developer:

http://sites.google.com/site/androiddevelopmentproject/

Market:

market://search?q=pname:com.hotrod.utility.rfsignaltrackereclair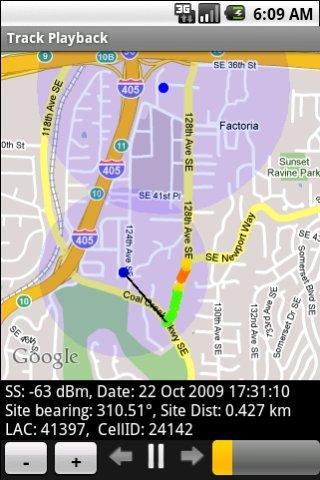 The Ad-hoc Drive Test App!
** This app is designed by an engineer, for engineers. So it will always be a work in progress, nuff said? It is for Android OS version 2.x and higher. Tested and works nicely on Nexus One and MyTouch 3G.
None Issues:
- CDMA has not been tested properly and likely will not display cell site locations correctly.
- App uses an unsupported Google cell site location database which does not have very extensive 3G cell locations. The best solution is to load your own sites through an CSV file (see instructions).
- Please remember you are using a phone, not a laptop. So if you try to record an hours worth of data, and/or play it back, unexpected events may occur.
Freatures:
- Record, save & playback rssi data. See HO stats.
- Export data to Google Earth KML file.
- Show coverage bubbles of serving cells.
- Users can load their own site locations.
- Big picture display of your drive
- App to SD supported
Previous Post: ABC News Widget
Next Post: Disney World Wait Times Lite