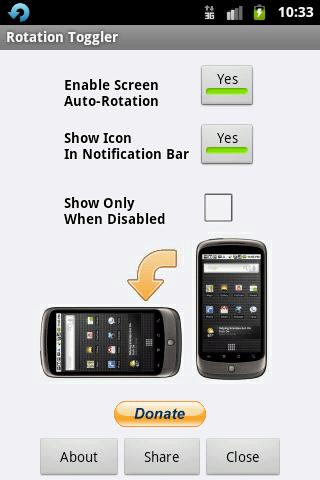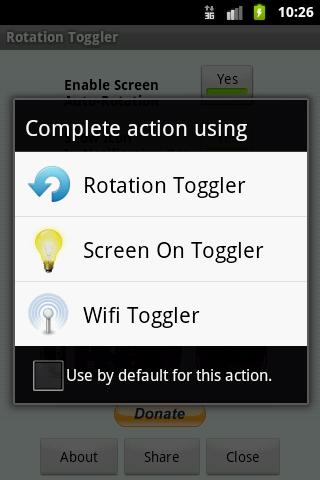 Rotation toggler is essentially an auto-rotate screen toggler application that allows you to enable or disable androids auto-rotate feature. This is useful especially when you dont want the screen to change its orientation when say..youre reading an ebook or browsing a site and dont want your browser to change its orientation.
Just long press on the search button and select rotation toggler or launch the application in your app drawer and toggle the auto-rotation on or off.
You may also configure options to display a notification bar icon for easy rotation toggling instead of long pressing the search button. With this option, you dont need to leave the app that you are currently using to toggle the rotation unlike other applications that uses widgets which requires you to go back to the home screen, press the widget and return to your previously running app! It is just that simple! Dont forget to try my other free apps. Ad-supported (requires and uses internet connection ONLY if you launch the app via app drawer).
Complete List Of Features:
– Toggle rotation by long pressing your android devices search button and choosing rotation toggler (if its not the default item)
– Option to enable/disable notification bar icon for easy toggling without pressing any buttons! Just swipe your notification bar downwards, tap the icon and the auto-rotation is toggled!
– Option to only display the notification bar icon when the rotation is disabled so that youre aware only when the rotation is disabled
– Start on bootup
App Specification
App Name:

Rotation Toggler

Rating:

4.07

Apk:

com.malcolm.rotationtoggler

Cost:

Free

Developer:

http://nexusoneworld.wordpress.com

Market:

market://search?q=pname:com.malcolm.rotationtoggler