App Specification
App Name:

Sanity

Rating:

4.44

Apk:

cri.sanity

Cost:

Free

Developer:

http://tagliamonte.net

Market:

market://search?q=pname:cri.sanity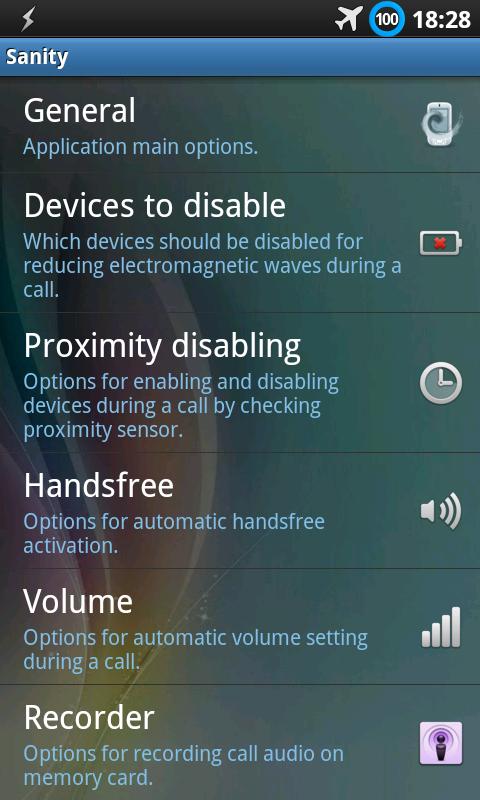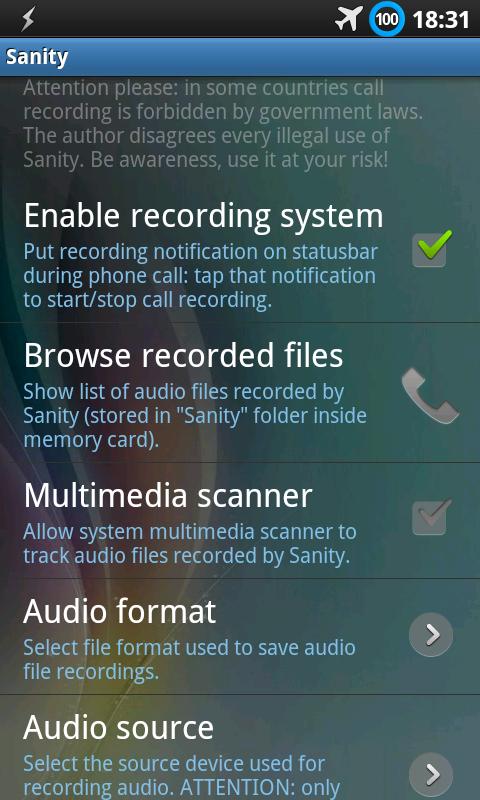 Sanity makes your phone calls better, easier and healthy. Take care of your health during phone calls: Sanity is the innovative application for reducing electromagnetic waves!
NEW: now Sanity can also RECORD your phone calls!
This feature is experimental, under testing, but it seems to work and it will be improved in the next versions. Install "Sanity Donate" to break the 2 minutes limit of recording for each audio file.
Sanity automatically turn off wifi, bluetooth, GPS and mobile data (2G/3G) when you speak at your phone. It also uses proximity sensor for turning on/off automatically the antennas when the phone is close to your ear.
If you make long phone calls, Sanity will save your battery by switching off useless radio devices.
Sanity can automatically turn on handsfree when the phone isn't close to your ear (using proximity sensor)!
In this way, Sanity can be useful while you're driving car: throught automatic handsfree, the headsets are no longer needed.
Later on, you can choose preferred volume level to set during calls: one for normal calling, loud handsfree, wired heasets volume and bluetooth headsets volume!
Sanity is light, small and very fast.
Sanity is a free software, opensource, released under GNU Public License version 3.
If you like Sanity, consider to leave a comment.
Please use email for bug reporting, don't report bugs here in comments.
Thank you.
NOTE: automatic mobile data and GPS switches work on many phone models but not on all! Android SDK hasn't functions for enabling/disabling mobile data and GPS, so that Sanity uses undocumented functions!
Be careful: if you use Sanity by enabling and disabling wifi too much times in few seconds, it couldn't restore the wifi state (it's normal).
[ tags: tool, utility, manager, calling, net, internet, speaker, best ]
Previous Post: EnglishCroatian Mini TR
Next Post: BatDroid