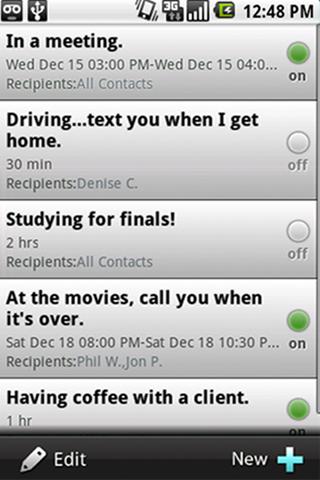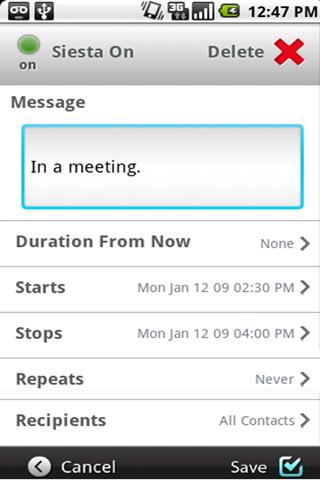 The cleanest, simplest auto response app on the market. Siesta Text lets you program personalized text away messages!
Set a Siesta and when someone texts or calls, your phone will send an instant auto reply. Customize what you want your Siesta to say, who receives it, when and how often.
Choose Duration From Now to activate a Siesta immediately and for as long as youd like. Or set a specific time & date for later in the future and have your Siesta repeat daily, weekly, bi-weekly, monthly or yearly.
At the movies? On a conference call? Or simply need to relax? Set a Siesta!
Parents: please tell your kids DONT TEXT AND DRIVE — let Siesta Text do the texting work for them!
For your own downloadable guide, visit: www.siestatext.tumblr.com
IMPORTANT NOTES:
Landscape Mode, for slide keyboard typing, coming very soon.
Anyone whod purchased an earlier version and had issues with the app, PLEASE notify us ASAP and we will take care of you.
Also, if your phone utilizes any other third-party SMS apps (i.e. ShadySMS, SayMyName, etc), Siesta Text MAY not function properly.
If you have ANY questions whatsoever, please email us and we will 100% respond within 24hrs.
Because Siesta Text utilizes your phones SMS function, standard text message rates do apply. Though if you have an unlimited texting plan, no additional charges will be incurred.
App Specification
App Name:

SIESTAtext Away Message

Rating:

4.43

Apk:

org.and.dev.siesta

Cost:

US$1.99

Developer:

http://www.siestatext.tumblr.com

Market:

market://search?q=pname:org.and.dev.siesta