SONY Ericsson announces global Android 2.3.4 update roll-out
Nearly a month ago SONY Ericsson announced their latest Android 2.3.4 update for nearly a dozen phones, but it only included a few countries in northern Europe. Since then, SE has added in even more tweaks and upgrades and is finally ready for a global Android 2.3.4 roll-out.
SONY Ericsson's phones will get all the traditional benefits of Android 2.3.4 that Google baked in (think Google Talk Video Chat). But SE has also crammed in a few tweaks of their own, including a Swype-line keyboard upgrade, 3D panoramic mode for the camera and SE's new LiveDock compatibility, which will transform your phone into a mini-mobile PC or gaming console by allowing users to connect their phones to an HDMI display along with a keyboard, mouse or gamepad.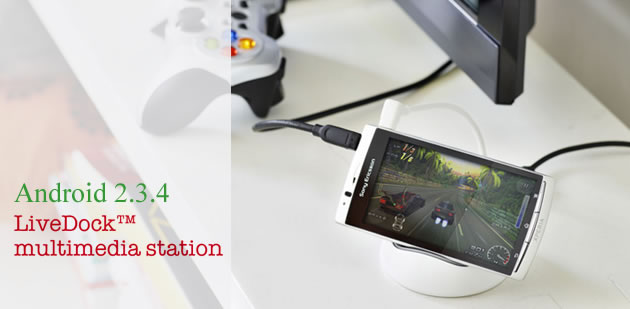 The lucky phones to get the latest Android 2.3.4 update from SONY Ericsson include the Xperia Arc, Xperia PLAY, Xperia Neo, Xperia Mini, Xperia Mini Pro, Xperia Pro, Xperia Ray, Xperia Active, Xperia Neo V, Xperia Arc S and the Sony Ericsson Live with Walkman. SONY Ericsson has not revealed how fast the Android 2.3.4 update will be rolled out, but they did mention that carrier branded phones will have a few different customizations (your typical carrier bloatware we assume). Also, the XPERIA Play will not be getting the 3D panorama sweep, but will instead gain HD video recording capabilities.
SONY Ericsson's Android 2.3.4 upgrade highlights
Google Talk with Video Chat for smartphones with front-facing cameras.
Updated Facebook inside Xperia functionality for enhanced Like, Share and Discover abilities.
Xperia smartphones introducing world's first 3D Sweep Panorama functionality powered by Sony.
16x video zoom.
Enable consumers to turn their Xperia smartphone into a mini-mobile PC by connecting USB peripherals (mouse, keyboard or game controller) to Sony Ericsson LiveDock multimedia station. Connect the smartphone to a TV via HDMI to get a big screen experience.
Gesture input. Text input by swiping the finger from one letter to the next
WiFi DLNA.
Screen capture. Allows the user to share a screen grab from anywhere in the phone.
SONY Ericsson still has some time before it's swallowed up by the SONY mothership,but it looks like the company is already on track to keep consumers happy and deliver new functionality to their existing Android lineup. Take a look at the video below and let us know what you think of all the new features SE is including in their Android 2.3.4 update.